Jacksonville Jaguars quarterback Trevor Lawrence is one of the hottest properties in the NFL at the moment, with his stock rising further after he led the Jags to an incredible comeback against the Los Angeles Chargers in the playoffs.
After being 27-0 down, Lawrence helped guide the Jaguars to a stunning 31-30 win on wildcard weekend. His wife, Marissa Lawrence, then booked some tables at Waffle House so that he could fulfill another desire, to eat waffles after progressing to the divisional round of the NFL playoffs.
Lawrence told reporters that it was his wife who made the reservations and she also posted on her Instagram Story the generous plates of food they ordered while celebrating the victory.
This has led to many wanting to know more about Marissa and the loving relationship she shares with husband—and it was a story that started in high school.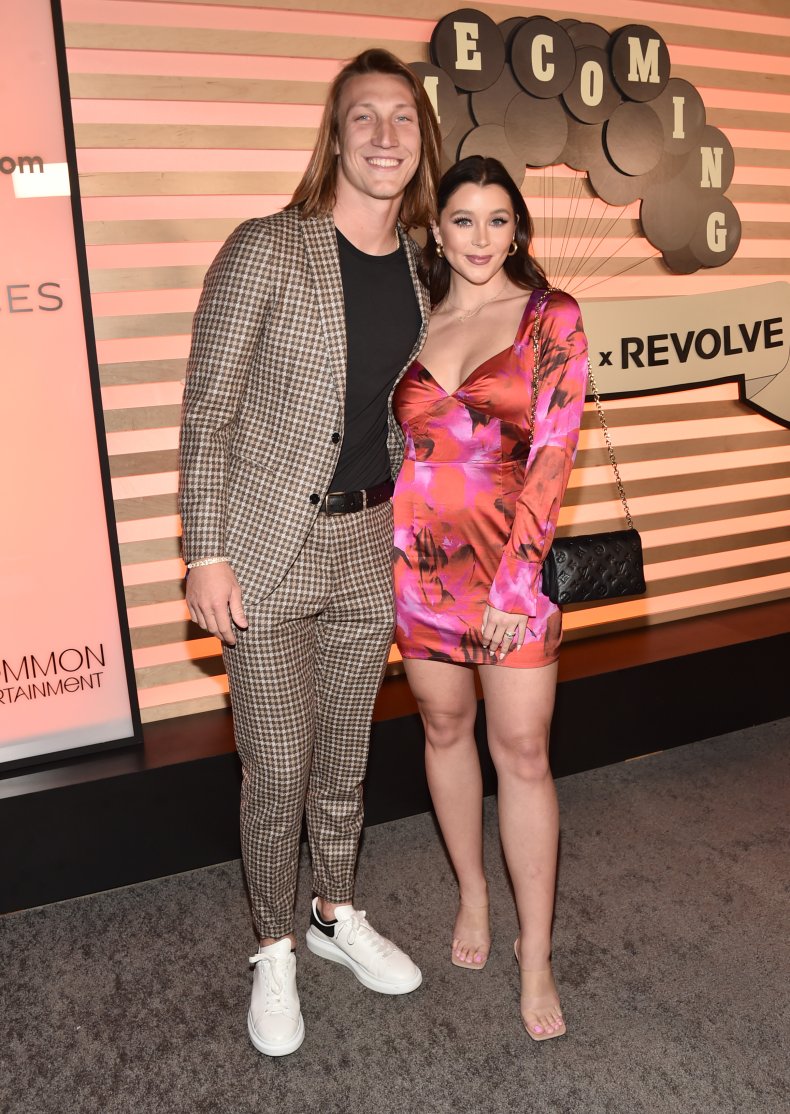 When and Where Did Trevor Lawrence Meet His Wife?
Trevor and Marissa met in Cartersville, Georgia, in 2016 where they both attended Cartersville High School. Marissa has been sharing pics of herself with Trevor on social media since 2017, when she used to post snaps of him in his football jersey.
The pair went to their high school prom in 2017 with Marissa wearing a blue gown and Trevor in a suit to match. The big event came just before the pair celebrated their first anniversary of dating.
Where Did Trevor Lawrence and Marissa Get Engaged?
Trevor was the first pick overall in the 2021 NFL Draft after narrowly missing out on the Heisman Trophy in 2020 while playing for Clemson Tigers.
The University's Clemson Memorial Stadium played a huge part in Lawrence's personal life as it was the scene of his engagement to Marissa.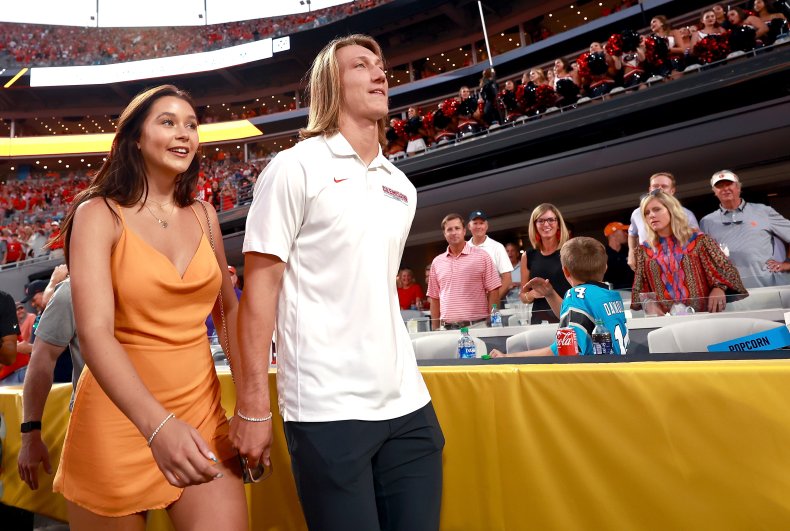 In July 2020, Marissa shared a number of photos from the engagement, in which he wore a suit and got down on one knee in the middle of the stadium.
Marissa didn't hesitate with her answer and she wrote on Instagram: "Easiest YES of my life!!! I love you always Trevor."
When Did Trevor Lawrence and Marissa Get Married?
The couple tied the knot on April 10, 2021, at Bluffton, South Carolina, in front of family and friends.
Marissa shared photos from their big day on Instagram, writing: "My love🤍 forever."
She later shared in an Instagram post her favorite part of the wedding: "One of my favorite parts of our wedding was at the very end Trev and I had one last dance together to our favorite song. It was the most perfect moment that'll I'll never forget. If it's not you it's not anyone."
Does Marissa Lawrence Have Brothers and Sisters?
Marissa's parents are Kelly and Steve Mowry and she has two sisters, McKenzie and Miranda Mowry.
She often posts about her sister McKenzie's two children, Jed and Isaiah.
In 2015, Marissa celebrated becoming an aunt for the first time by sharing on Instagram McKenzie's baby news: "Welcome to the world Jedidiah John David Grimes. I've never known love this quickly and I'm beyond excited to be your aunt.
"I'm so proud of you Kenz and how strong you have been … You're going to be the best mom and Jed is already so loved! I'm so happy for this journey you're going on and im so proud to be your sister and be a part of it. I love you both to pieces."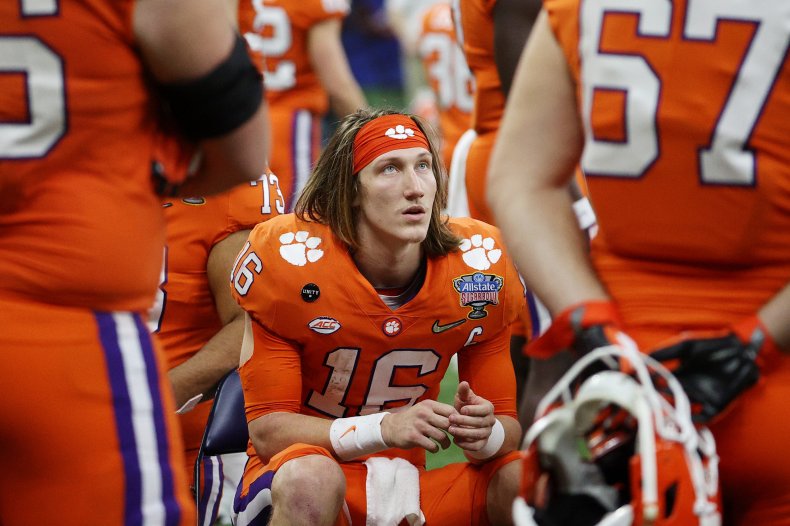 Three years later, Marissa became an aunt again as McKenzie had another baby and she celebrated her sister's new arrival on Instagram: "Happy Birthday Isaiah Lynn. So proud of you Kenz, you did great."
What Does Marissa Lawrence Do for Work?
When Marissa was at Anderson University, she played soccer, which she had done since the age of five.
Unfortunately, the opportunity to turn professional was denied when her career was cut short by the COVID pandemic.
She wrote on Instagram in 2021, as she prepared to graduate: "This one has been a hard one to start. How do you say goodbye to something you've known your whole life, something you've poured so much into, something you love.
"Though things aren't ending the way I ever would've thought (corona cancelled our season and it is now in the spring. I graduate in December so I didn't get an actual last season of soccer) I couldn't be more thankful or filled with JOY for the times I've had with the sport I love.
"I've worn this jersey with pride and joy, but now it's time to say goodbye and start the new season that the Lord has prepared for me. I can go into it confidently knowing soccer has been a crucial part in shaping my life."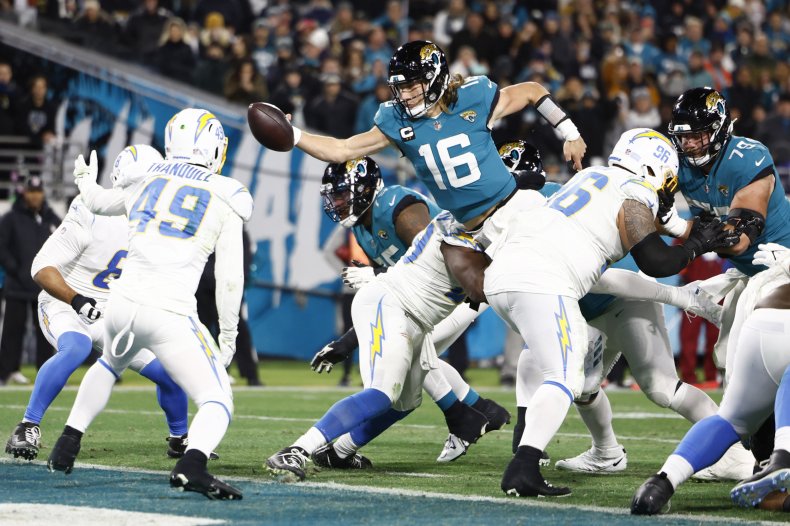 After graduating, Marissa announced her new venture, launching an event planning company called Love, Gigi Event Design in June 2021.
She wrote on Instagram at the time: "SUPER FUN NEWS!! As many of you know I've always loved events and planning and all things party planning! As I start this new chapter of life I'm so excited to share with you all that I've partnered with @lovegigievents (eeeep!).
"I'm so excited for this new step & chasing my dreams. Go follow along on their page and join THE PARTY 🎉 Excited to plan with you all and make dreams a reality."
Do you have a tip on a sports story that Newsweek should be covering? Do you have a question about the NFL? Let us know via entertainment@newsweek.com.