Paris Hilton has announced that she has welcomed her first child, a baby boy, with husband Carter Reum via surrogate.
The socialite, 41, shared a post on Instagram on Tuesday, January 24 that confirmed her and her husband's happy news alongside a picture of her newborn's hand wrapped around her own.
Alongside the photo she wrote: "You are already loved beyond words."
Hilton's baby boy is her first, and Reum's first with her, but he also shares a 10-year-old daughter with reality star Laura Bellizzi.
Over the years, Hilton has previously spoken publicly about wanting children.
What Paris Hilton Has Said About Having a Baby—'Top Priority'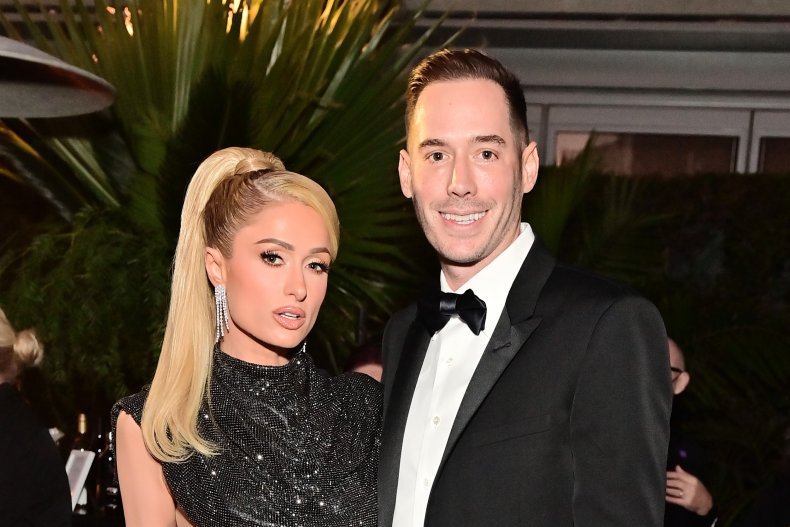 On Tuesday, Hilton shared a statement with People about their child, which read: "It's always been my dream to be a mother and I'm so happy that Carter and I found each other.
"We are so excited to start our family together and our hearts are exploding with love for our baby boy."
Hilton began her IVF journey in 2020, and Kim Kardashian was the person who first suggested she use the fertility treatment to conceive. Kardashian used IVF to welcome her and Kanye West's Saint after naturally conceiving their daughter North, their children Chicago and Psalm were born via surrogate.
In an appearance on The Trend Reporter in January 2021 she told Mara Schiavocampo: "We have been doing the IVF so I can pick twins if I like. Kim was the one who told me about that. I didn't even know anything about it. I'm happy that she told me that advice and introduced me to her doctor.
"So, I'm really excited to just move on for the next step of my life, and finally just have like a real life. Because I really do believe that having a family and having children is the meaning of life.
"And I haven't got to experience that yet, because I didn't feel like anybody deserved that love from me, and now I finally found the person who does."
In an interview with People in December 2022, Hilton shared that she and Reum had begun their IVF treatment during the height of the COVID-19 pandemic.
She told the publication: "We started going and doing it like a few months in because the world was shut down.
"We knew we wanted to start a family, and I was like, 'This is perfect timing. Usually, I'm on a plane 250 days out of the year, and let's just get all of the eggs stocked and ready,' and we have tons of them just waiting."
In an interview with E! News' Daily Pop in January 2022, Hilton shared that she was very keen to have children with Reum, whom she married in November 2021.
Expressing her desire for a family, Hilton told the publication: "I cannot wait. That is definitely one of my top priorities."
Newsweek has contacted Paris Hilton's representatives for further comment.