A video purported to show George Santos dressed as a drag queen has been shared on social media, after the House Republican dismissed reports he had performed in drag as "categorically false." Newsweek was unable to verify the footage, which was posted on Twitter by a Reuters journalist who said he was sent it by an "anonymous source."
The performer in question appears to be wearing the same outfit as that worn by "Kitera Ravache," who Brazilian drag queen Eula Rochard identified as Santos in an interview with MSNBC reporter Marisa Kabas.
On Thursday the 49-second clip was posted online by Steven Grattan, a Reuters reporter based in Brazil.
He commented: "The drag queen in this video sent to me by an anonymous source appears to be wearing the exact same dress, necklace, and earrings as Kitara Ravache in Brazilian drag queen Eula Rochard's photos that's been circulating online, alleging it is U.S Rep. George Santos."
The footage shows a number of people at what appears to be a party, with a drag queen wearing a red dress with frilly edges appearing in the second half, then dancing for the camera.
Newsweek has contacted Santos about the video for comment.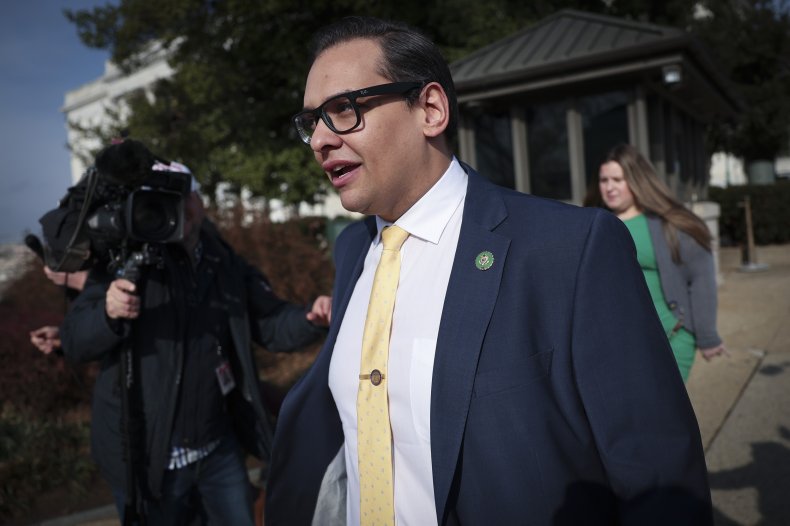 The first grainy photograph of Santos allegedly dressed as a drag queen was posted on Thursday by Kabas.
She said: "I just spoke by phone with Eula Rochard, a Brazilian drag queen who was friends with George Santos when he lived near Rio. She said everyone knew him as Anthony (*never* George), or by his drag name, Kitara, and confirms this photo is from a 2008 drag show at Icaraí Beach."
Kabas said she conducted the interview with a Brazilian friend acting as translator.
She continued: "Eula says she met Santos when he was 16 or 17 years old and became friends because they were both gay and enjoyed drag.
"Eula saw a story about Santos on Brazilian news and was sure it was him. She shared the news with a group of friends and everyone doubted her. So she looked for an old picture to confirm, and she decided to post it to social media to prove to her friends that she was right."
The MSNBC reporter argued the photograph was newsworthy because Santos "ran as a far right candidate, and continues to align himself with transphobes/homophobes who target drag shows."
Later that day Santos denied he had ever performed in drag, tweeting: "The most recent obsession from the media claiming that I am a drag Queen or 'performed' as a drag Queen is categorically false.
"The media continues to make outrageous claims about my life while I am working to deliver results. I will not be distracted nor fazed by this."
Santos is facing calls to resign from senior figures within the Nassau County Republican Party, which includes much of his New York 3rd congressional district, after it emerged he fabricated large parts of his resume, including his family background, education and employment history.
However, House Speaker Kevin McCarthy is refusing to move against Santos. Speaking to reporters last week he said: "The voters have elected George Santos.
"If there is a concern, he will go through Ethics. If there is something that is found, he will be dealt with in that matter. But they have a voice in this process."