Former President Donald Trump stands to lose millions of cable news viewers for his rallies ahead of a planned event in South Carolina this weekend, potentially robbing him of a large cohort of his base as he seeks to begin his presidential campaign within the early voting state in earnest.
After days of rumors, cable carrier DirecTV announced this week it would be dropping the conservative cable news channel Newsmax from its list of offered channels, saying the network's demands for rate increases as part of its negotiating package "would have led to significantly higher costs that we would have to pass on to our broad customer base" amid a 47 percent decline in subscribers since the carrier's purchase by ATT in 2015.
Newsmax executives called the move politically motivated, with Newsmax CEO Christopher Ruddy calling the decision "a blatant act of political discrimination and censorship against Newsmax" in an article from the channel decrying the deal.
The person most likely to be hurt, however, is the person whom the channel has all but built itself around: former President Donald Trump.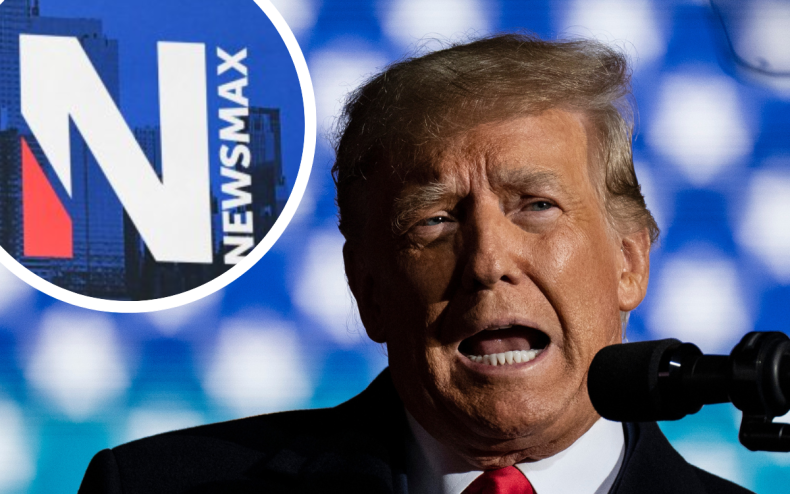 While Newsmax has been around for some time, it—like the more recently established conservative network One America News—was never fully able to compete with the major networks, with average primetime ratings wavering between a range of 130,000 and 230,000 nightly viewers over the past six months.
However, as channels like Fox News and others began reducing their amount of Trump coverage—including coverage of his rallies—channels like Newsmax stepped in to fill the void, earning some of the channel's largest ratings from the sheer fact their station was the only one airing them.
Following a Trump rally late last month, former CNN media reporter Brian Stelter noted a Trump rally he held attracted more than 1.5 million viewers, allowing them to surpass Fox News' viewership that evening. Another Trump rally in Pennsylvania this past September drew an estimated 2.9 million viewers to Newsmax's content, according to Nielsen, with more than half viewing his speech on cable.
Newsmax reported even higher totals in 2021, when one rally—according to Newsmax—achieved five million viewers, dominating the major networks at the time.
However, it was still far less than some of the numbers reported in Trump's presidency when Fox News regularly carried his content.
In June 2020, Fox News was the only major network to carry a Trump campaign rally at the time and was rewarded handsomely, averaging more than 7,661,000 million viewers during a period in which it typically averaged 1.5 million daily, according to Nielsen ratings at the time.
It was not immediately clear how many of Newsmax's daily viewers came from DirecTV. However, a statement provided to Insider last month claimed Nielsen ratings show Newsmax gets half to 60 percent of CNN's audience on a nightly basis.
The gap, however, could potentially be made up somewhat online. With streaming numbers included, Newsmax, they wrote, "is close to parity with CNN's audience."
Newsweek has contacted Newsmax's media relations team for comment.