Former federal prosecutor Glenn Kirschner said Sunday that former President Donald Trump keeps providing "incriminating evidence" against himself as he continues to post on social media about how he handled classified documents.
During an appearance on MSNBC's The Katie Phang Show, Kirschner was asked by host Katie Phang whether Trump keeps on "making admissions and confessions" every time he posts on Truth Social.
"He does. That is incriminating evidence from heaven for prosecutors," Kirschner responded.
Phang was referring to a post the former president wrote last Wednesday on the social media platform in which he referred to the highly classified documents as a "cool" keepsake.
"Remember, these were just ordinary, inexpensive folders with various words printed on them, but they were a 'cool' keepsake. Perhaps the Gestapo [FBI] took some of these empty folders when they Raided Mar-a-Lago, & counted them as a document, which they are not. It's also possible that the Trump Hating Marxist Thugs in charge will 'plant' documents while they're in possession of the material. As President, and based on the Presidential Records Act & Socks Case, I did NOTHING WRONG. JOE DID!" the former president wrote.
Kirschner then explained that when a person is being criminally investigated, everything they say related to their case could be used against them.
"When somebody who is the target of a criminal probe, and he clearly is, special counsel Jack Smith is investigating these precise crimes—the classified documents at Mar-a-Lago. Everything he says, everything he posts is what we call an 'admission by a party- opponent,'" the former federal prosecutor said.
An admission by a party-opponent is a statement made by a person that could be used against them or someone else, which has to meet a certain criteria, according to US Legal. This includes that the "party against whom the statement is being offered is also the declarant of that statement either personally or in a representative capacity."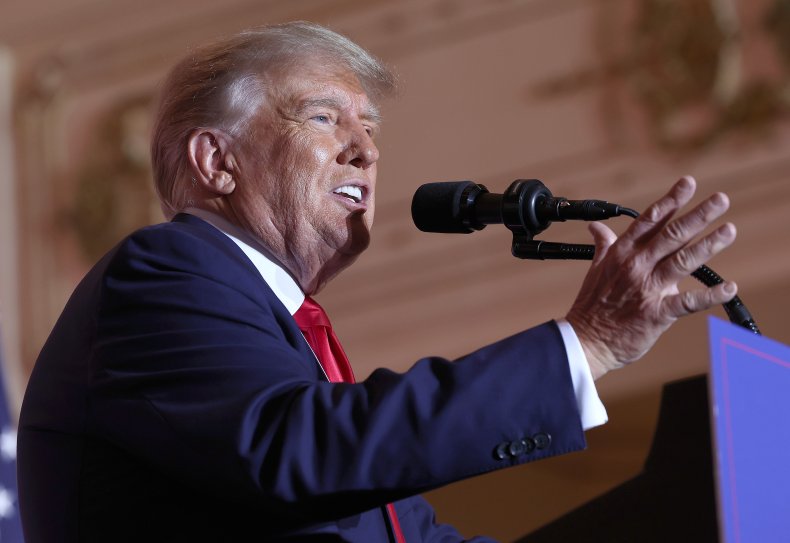 Trump is currently being investigated by the Department of Justice (DOJ) for allegedly mishandling hundreds of highly classified documents, which the FBI seized last summer from his Mar-a-Lago residence in Florida.
The former president has repeatedly denied any wrongdoing, and said that he declassified those documents before removing them from the White House in 2021. However, former DOJ official Mary McCord said at the time that she didn't find a "plausible argument that he had made a conscious decision about each one of these to declassify them before he left," adding that the former president had no authority to declassify information after leaving office.
Trump also said last Wednesday that authorities treated him differently compared to President Joe Biden who was recently found to have stored classified documents in his home in Wilmington, Delaware, and a former office in Washington, D.C.
"Biden is being treated so much better than me, I'm shocked (not really!). Why aren't they raiding his house, & how come his representatives and lawyers are allowed to work together with the Gestopo in looking for documents, when my lawyers & representatives were not allowed anywhere near the search. We weren't even allowed to know what they took when they raided my home. 'Please leave the premises,' they said, & then lugged out everything they could, including my Passports & Med Recs," he wrote on Truth Social.
The classified documents discovered earlier this month at Biden's private residence dated back to when he served as vice president under former President Barack Obama. Some of the documents also dated back to when Biden was a senator from 1973 to 2009.
In addition to the recently discovered documents, an earlier batch of confidential records was found on November 2 by Biden's attorneys in his former office at the Penn Biden Center for Diplomacy and Global Engagement think tank in Washington, D.C.
Still, Kirschner tweeted on Sunday that Trump and Biden cooperated differently with officials and authorities, adding that Biden has been more welcoming to the course of justice.
"Biden invited the DOJ to do a complete search of his home to makes sure all docs were returned to the National Archives. Trump REFUSED to give the docs he took to the National Archives, the DOJ or the grand jury. Trump obstructed Justice. Biden facilitated justice. Full stop," he wrote.
Meanwhile, the DOJ began a search of Biden's home on Friday morning and concluded later that evening that it covered "all working, living and storage spaces in the home," according to Biden's personal attorney Bob Bauer.
"DOJ had full access to the President's home, including personally handwritten notes, files, papers, binders, memorabilia, to-do lists, schedules, and reminders going back decades," Bauer said. "DOJ took possession of materials it deemed within the scope of its inquiry, including six items consisting of documents with classification markings and surrounding materials, some of which were from the President's service in the Senate and some of which were from his tenure as Vice President. DOJ also took for further review personally handwritten notes from the vice-presidential years."
Newsweek reached out to Trump's media office for comment.