Former President Donald Trump appeared to take aim at Florida Governor Ron DeSantis on Wednesday as he shared a poll showing DeSantis trailing him in a potential 2024 Republican primary.
DeSantis has not declared his intention to run for the GOP presidential nomination but he's widely considered a likely challenger to Trump, who launched his campaign shortly after the November midterms.
Trump shared a graphic, without comment, on his Truth Social platform that showed the results of a poll conducted by Premise Data among 655 registered voters.
The poll showed Trump with 51 percent support in a hypothetical Republican primary—significantly ahead of DeSantis, who won just 30 percent support, followed by former Vice President Mike Pence on 9 percent.
The survey was conducted from January 5 to 8 and it's the latest poll that shows Trump leading DeSantis.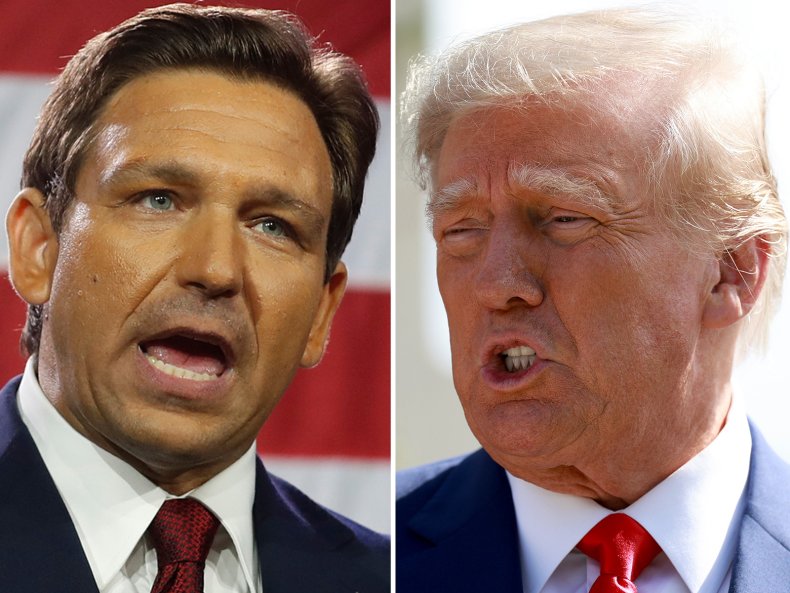 Morning Consult's 2024 GOP Primary Tracker found that Trump led in a potential GOP primary with 48 percent support as of Thursday. That gave him a 17-point lead over DeSantis, who had 31 percent support.
Pence was also in third place in Morning Consult's poll, garnering 8 percent support.
The former president's decision to highlight the Premise Data poll comes after video showing him saying he would "handle" DeSantis went viral earlier this week.
The former president told conservative podcast The Water Cooler on Monday: "I got him elected, pure and simple."
"He would have never… If I said I wasn't going to endorse you. And there was no reason to go wild about endorsing him," Trump went on.
"So, now I hear he might want to run against me. So we'll handle that the way I handle things," he said.
Trump endorsed DeSantis in the 2018 Florida gubernatorial election and has previously suggested that DeSantis would not have won without his support. The governor won re-election in November 2022 and was sworn in for a second term earlier this month.
No other Republicans have declared their intention to run for the 2024 GOP presidential nomination but DeSantis and Pence are widely considered to be mulling a bid, which would see them challenging Trump.
On Thursday morning, Trump said he would be making "a big political speech today at TRUMP DORAL, in Miami," in a post on Truth Social.
"The Fake News says I am not campaigning very hard," Trump wrote. "I say they are stupid and corrupt, with the Election still a long time away. But do not fear, MANY GIANT RALLIES and other events coming up soon. It will all be wild and exciting. We will save our Country from DOOM and MAKE AMERICA GREAT AGAIN!"
The former president has not led in every recent poll about a hypothetical Republican primary contest.
A YouGov/Yahoo News poll conducted between January 12 and 16 among 450 registered voters found DeSantis ahead by 3 points at 45 percent compared to Trump's 42 percent.
However, a poll from YouGov/The Economist conducted from January 14 to 17 among 472 registered voters showed Trump leading with 44 percent to DeSantis' 32 percent.
Newsweek has reached out to the offices of Ron DeSantis and Donald Trump for comment.