Former President Donald Trump is demanding that the journalists who published the leaked draft of a U.S. Supreme Court decision overturning Roe v. Wade be jailed if they do not disclose their source.
The Supreme Court said Thursday that its investigation into the leak was unable to identify those responsible for allowing a draft of the Dobbs v. Jackson opinion to end up in the hands of Politico, which published its bombshell report in early May.
The final decision in Dobbs was released by the high court in late June, which ultimately rolled back federal abortion rights.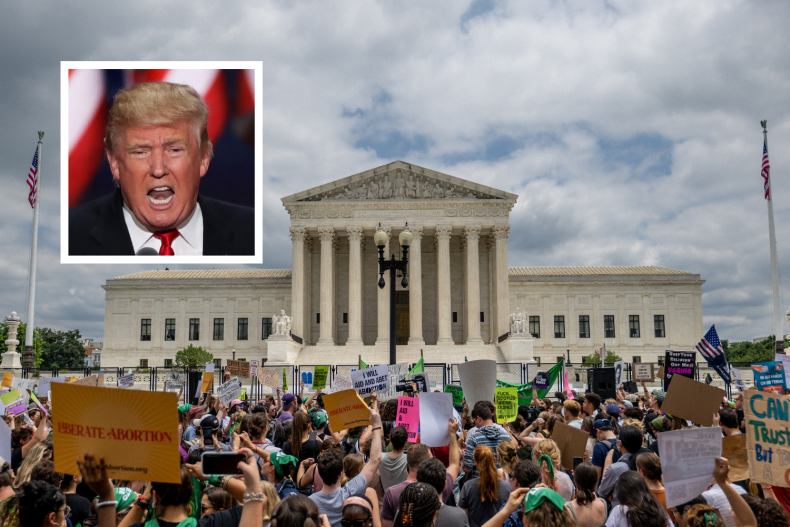 Trump posted on his Truth Social account Thursday that the Supreme Court will "never find out" who leaked the draft based on its investigation, adding that it was "important that they do."
"So, go to the reporter & ask him/her who it was," Trump suggested. "If not given the answer, put whoever in jail until the answer is given."
"You might add the publisher and editor to the list," the former president added. "Stop playing games, this leaking cannot be allowed to happen. It won't take long before the name of this slime is revealed!"
Trump repeated his demands in a separate Truth Social post shortly after, writing, "Arrest the reporter, publisher, editor – you'll get your answer fast. Stop playing games and wasting time!"
According to the Reporters Committee for Freedom of the Press (RCFP), most state courts and federal circuits have some sort of "reporter's privilege," which allows journalists to refuse to testify in court regarding their confidential sources.
However, in 1972, the Supreme Court found in both Branzburg v. Hayes and United States v. Caldwell that freedom of the press protections under the First Amendment did not shield reporters from being required to disclose confidential information to a grand jury when the information is "paramount" in a government investigation.
The Politico reporters behind the leaked draft have not acknowledged the Supreme Court's investigation publicly. Melissa Cooke, Politico's communications director, told Newsweek in an email Thursday night that the publication also had no comment.
According to the report released Thursday regarding the Supreme Court's probe, investigators conducted 126 formal interviews of 97 employees, including the justices' law clerks.
The court also referred to the leaked opinion as "one of the worst breaches of trust in [the Supreme Court's] history."
"The leak was no mere misguided attempt at protest," read the report. "It was a grave assault on the judicial process."
Newsweek has also reached out to the Supreme Court's public information office for comment.
Update 1/19/2023, 8:27 p.m. ET: This story has been updated with a response from Politico.