Ukraine's minister of foreign affairs provided a grim outlook for potential talks to end the war with Russia, detailing "lessons" Ukraine has learned in attempts to negotiate with Russian President Vladimir Putin in the past.
The war in Ukraine reached its 11-month anniversary on Tuesday. Though Putin's army has seen several setbacks in recent months, such as the reportedly massive loss of troops in the effort to take the long-embattled city of Bakhmut, neither side appears poised to achieve victory at this point.
U.S. Army General Mark Milley, chairman of the Joint Chiefs of Staff, said Friday that it would be "very, very difficult" from a military standpoint to fully eject Russian soldiers from Ukraine this year. He also said that he believes the Ukraine war will end with negotiations rather than on the battlefield.
Other officials around the globe, such as French President Emmanuel Macron, have said they believe negotiations will be needed to put an end to the conflict.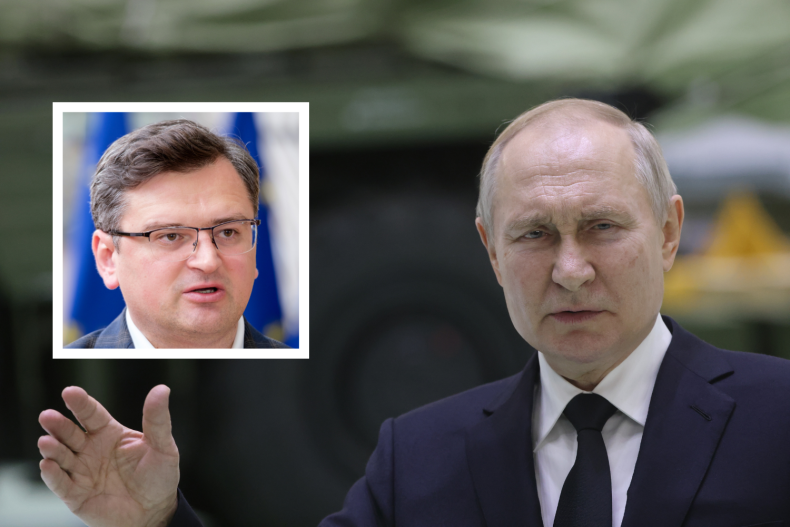 And though Russia previously signaled openness to peace talks with Ukraine, Kremlin spokesman Dmitry Peskov told reporters on Monday that negotiations "are now impossible since there are no conditions for them either de facto or de jure."
In an opinion piece published by Politico Magazine on Tuesday, Ukrainian Foreign Minister Dmytro Kuleba said that those calling for peace negotiations in the West "may have good intentions, but they don't seem to recognize that Russia has not proposed any meaningful talks and remains focused on destroying Ukraine militarily."
Ukraine and Russia have laid out their conflicting lists of demands for ending the war.
Russia has called for the vague conditions of "denazification and demilitarization," as well as for Ukraine to give up the four regions of its territory—Kherson, Zaporizhzhia, Donetsk and Luhansk—that Putin declared as annexed last year.
Ukraine is demanding security guarantees, the full withdrawal of Russian forces, punishment for Russia and the full restoration of its territorial integrity, including the Crimean peninsula that Moscow annexed in 2014.
Kuleba wrote that Ukraine has already been negotiating with Russia for more than eight years, citing the 2014 Minsk agreements that aimed to put an end to a separatist conflict in eastern Ukraine.
The first of the five lessons that he said Ukraine learned about negotiating with Russia over the years was that it is a "mistake" to halt the war and put off finding a solution for territorial problems for the future.
He alleged that throughout the Minsk process, Russia was preparing to launch a full-scale war on Ukraine even though its representatives kept "imitating diplomacy." This process led to a "disaster" for Ukraine and beyond, Kuleba wrote.
The second lesson is that Russia "doesn't negotiate in good faith." Kuleba said that Putin has long wanted to "dismantle Ukrainian statehood" and saw the Minsk process as a potential avenue to chip away at its sovereignty by political and diplomatic means. Putin planned the whole time to resort to military force if he didn't succeed in his goals with the Minsk agreements, Kuleba alleged.
The third lesson was that the topic of Crimea's eventual de-occupation cannot be set aside.
"One of the gravest mistakes of Minsk was to allow Russia to believe that the issue of Crimea was off the table," Kuleba wrote.
The fourth lesson was that Russia "does not reciprocate with constructive language and policy," since Putin views any compromise with others as a "weakness," Kuleba said.
"Putin's Russia has been inventing complex combinations to deceive others, and not to find a common interest, even the most pragmatic one," he wrote.
And the final lesson was that Russia, not Ukraine, should be "forced" into concessions, Kuleba said. He wrote that during the Minsk process, some partners tried to pressure Ukraine into being "constructive," which led to his country pursuing a "transparent settlement and a just peace."
In turn, Russia "did not fulfill a single point" of the Minsk agreements, Kuleba said. He chalked up Russia's current dialogue about potential negotiations to wanting a "pause" in the conflict but not actual peace.
Newsweek reached out to the Kremlin for comment.