Perhaps the easiest way to shake off the January Blues is by switching up your look. Sometimes a short-term solution to some of life's more trivial trials and tribulations is handier than a long-term reinvention plan or project.
I've always found modest pick-me-ups like a new lipstick or a different breakfast recipe to be effective mood boosters, so when I came across a low-budget, low-maintenance hair hack destined to give me the voluminous waves of my dreams, I knew I was in luck.
A TikTok video has demonstrated how a pasta strainer can double up as a hair diffuser and be used to create bouncy beach waves. The beauty hack, originally posted to the social media platform a week ago by Liz Roseberry, who goes by the username @FoxCraftCustom online, has been viewed more than 21.4 million times and has since inspired plenty of copy-cat tutorials.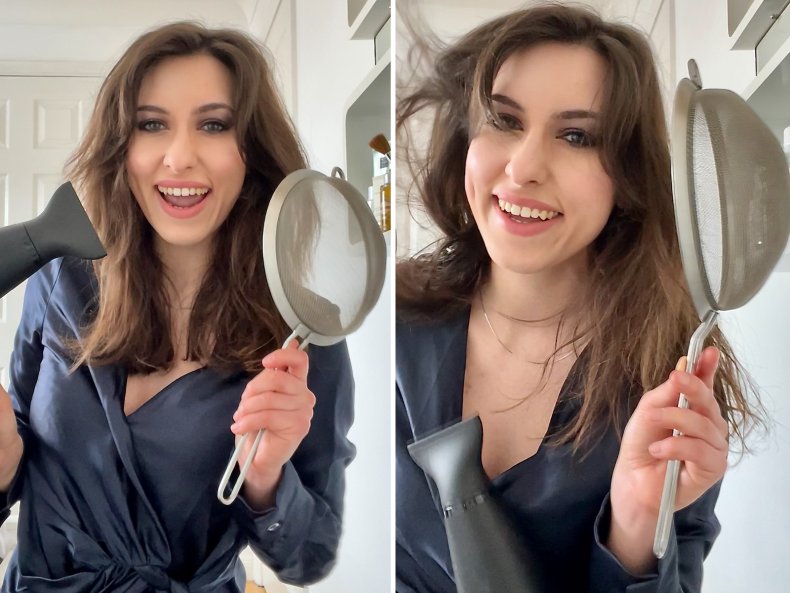 Armed with a pasta strainer from my mom's kitchen, I decided to cast aside my over-priced styling tools, cancel my salon appointments and give the trend a go.
It's at this point that I should probably mention that my natural hair texture is slightly wavy, yet still quite soft and fine, and my hair doesn't tend to hold intricate styles well.
In short, it doesn't really have much personality.
I've always yearned for defined waves and salon-worthy volume, and I spent much of my late teens and early 20s embarrassingly pleading with my hairdresser to give me Kate Middleton's Chelsea blow-dry.
Anytime I attempt to style my own hair, I know that I'll need a gallon of hairspray at hand to keep the finished look in place. A short breeze is enough to make whatever I'd spent hours working on fall apart.
The pressure was on for the pasta strainer, but I had high hopes for it to pull through after seeing numerous videos online of people achieving great results from the hack.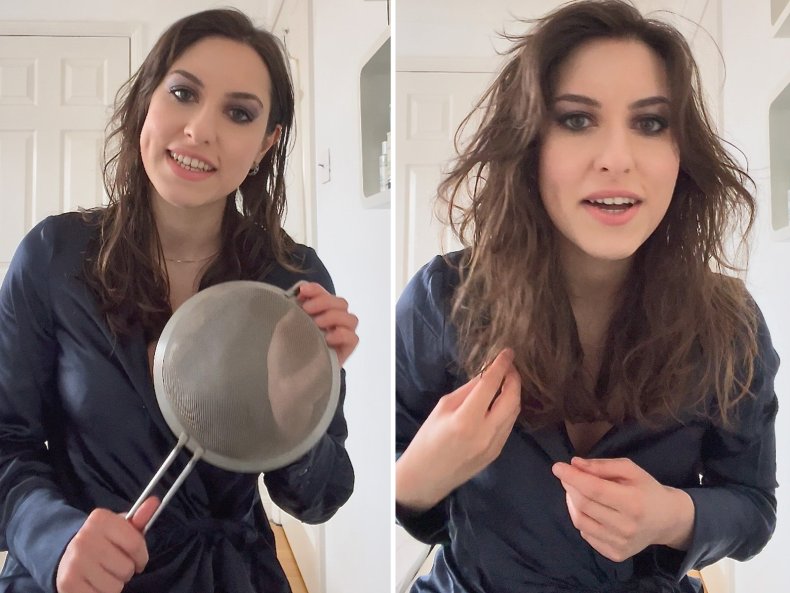 THE STRAINER DIFFUSING METHOD
1. Without a pasta strainer to my own name, my go at the beauty hack started with me raiding my mom's kitchen to find one. On average, pasta strainers can be purchased for anywhere between $5 and $25, depending on quality. The quality of the pasta strainer is unlikely to impact the final result of the beauty hack.
2. After getting my hands on a decently sized strainer, I got together my hairdryer, hair brush and heat defense spray. Adding heat defense spray is optional, but one that I'd recommend to avoid frying your hair!
3. I began by brushing through my wet hair, I'd just washed it and I'd used both shampoo and conditioner.
4. I spritzed some heat defense spray over my hair, and then proceeded to put chunks of my hair into the pasta strainer and blow dry under it.
5. After finding that quite tricky because my fine and mid-length hair would just fall out of the strainer, I stood up and tilted my head upside down just like how Roseberry did in the trend-setting video. I placed all my hair into the pasta strainer and blow-dried underneath it. I did this a few times, for around 15 seconds at a time.
6. Afterwards, I smoothed over the look and sorted out my bangs.
7. Roseberry appears to have added some curl cream to her look, but because of my natural hair texture, I don't own any curl products and left this step out.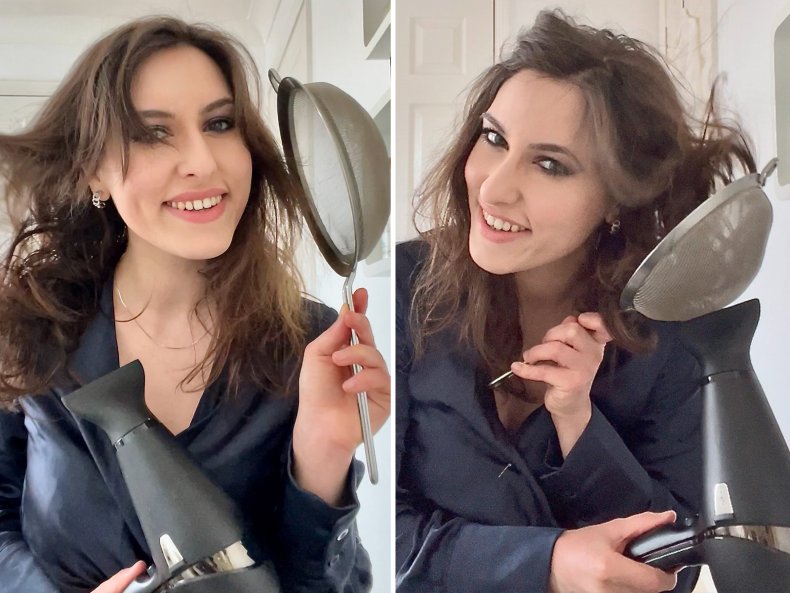 THE VERDICT
As soon as I lifted my head back up, I was amazed to see how much volume had been added to my hair! Some of my usually quite flat and fine hairs were literally standing up on the end in a rather alarming "mad scientist" way, and I chose to smooth over the end result with a brush to create a more refined look.
The pasta strainer had certainly been successful in giving me lots of volume, especially since I'd attempted the hack quite sloppily and hadn't put a full amount of effort into ensuring that all my hair stay in the strainer and get blow-dried for a long period of time.
However, whilst this is a great way to achieve voluminous hair quite quickly, if you're looking for more defined curls and waves, then you're going to have to do a little extra work. I'd also bear in mind that it's never a good idea to put heat on your hair for long periods of time, so I'd be cautious about the hair damage the hack could generate if resorted to long-term.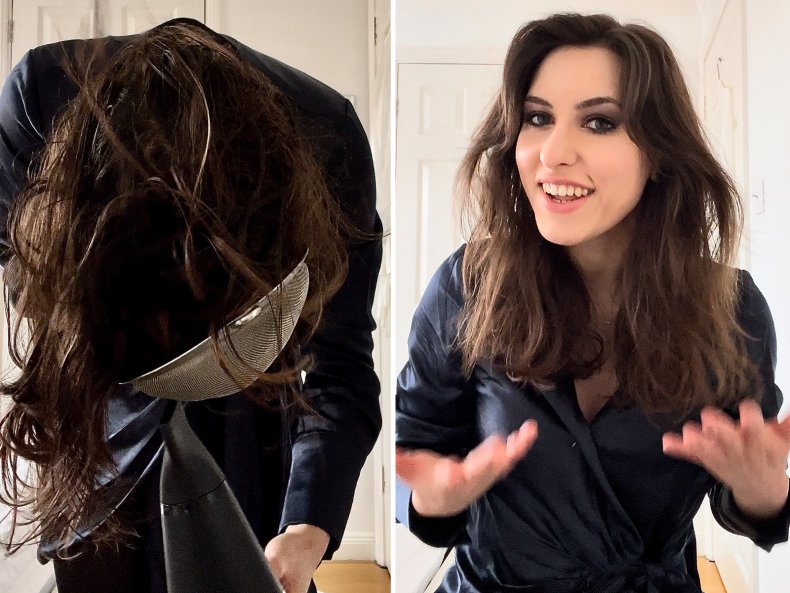 Still, the pasta strainer had been successful in providing me with some bouncy, loose waves that resembled the flicks that you'd achieve through blow drying with a round brush. At least I can say that I finally achieved Kate Middleton's Chelsea blow-dry!
While the method can create plenty of volume, it also creates a lot of frizz too. Perhaps that's because I hadn't used the right products in preparation or because my hair is naturally quite fine and easily goes static. I'm not sure, but the frizzy "mad scientist" look was definitely less than desirable and needed some extra work to smooth over!
Would I do this again? If I have the time, sure! The hack certainly provided me with a good base level of volume, which is a great starting place for me to go on and create different styles (or even just defined waves) with professional tools.
What Do The Experts Think?
Akirashanti Byrd, co-founder and CEO of Curl Centric, an award-winning hair and beauty blog, has been working in the hairstyling industry for over a decade and warns against relying on the pasta strainer trick, arguing that it's an unhealthy hack that can cause long-term damage.
Byrd told Newsweek: "I would not recommend the 'pasta strainer TikTok hack' as a regular practice. The heat from the strainer can easily cause heat damage to the hair, which can lead to breakage, dryness and split ends
"My top tips for keeping hair as healthy as possible would be to use a good quality shampoo and conditioner, a heat protectant and a leave-in conditioner."
The haircare whizz recommends that people get regular trims, steer clear of brushing too vigorously and avoid using heated styling tools to keep their manes nice and healthy.
"Try to be gentle when combing or styling [your hair] and always use a wide-toothed comb," she said.
Here's Byrd's step-by-step guide to getting bouncy beach waves:
1. Begin by washing your hair with a light shampoo and apply a small amount of conditioner, focusing on the ends. Towel-dry your hair afterwards, and if you have some, apply a sea salt spray or foam to add texture.
2. Divide your hair into four or five equal sections and begin lightly brushing with a paddle brush. Brush through from the roots of your hair to the tips.
3. Once you have brushed through each section of your hair, prepare to curl your hair with a curling iron or wand. Separate each section of hair and use a small to medium sized curling iron to curl your hair in alternating directions.
4. After you have finished curling your hair, use your fingers to lightly shape and scrunch the curls for an effortless wavy look. Avoid using a brush as it can make the waves look too structured.
5. To keep your beach waves smooth and frizz-free use a light serum to seal and define the curls. This will help to hold the shape and keep the hair smooth.
6. Finish off the look with a few spritzes of hairspray to hold the shape and texture.
"For adding texture and creating natural waves, I would suggest using a sea salt spray or foam as it will not damage the hair. This can easily be applied both before and after curling," Byrd continued.
She went on to advise me that to achieve salon-worthy waves, despite my fine hair texture, I could apply a volumizing or thickening mousse before I even begin styling my hair.
"This will add a light weight volume and texture to the hair, making it easier to curl and hold. For the curling process, use a small to medium sized curling iron and focus on the mid-length and ends of your hair to add extra volume and definition," she said.