That '70s Show was a staple on Fox from 1998 to 2006, and the much-loved show is now getting the reboot treatment at Netflix.
Titled That '90s Show, the new version of the story is set in 1995 and it will now follow teen Leia Forman as she visits her grandparents, Red and Kitty, for the summer, and starts to bond with other kids in Point Place, Wisconsin.
Through her new friendships and adventures in the area, Leia starts to realize that she may be able to reinvent herself in Point Place just like her parents did all those years before her.
Several original cast members are returning to the spin-off, while there are also a number of new characters. Here is everything you need to know.
Which That '70s Show Cast Members Are Returning to That '90s Show?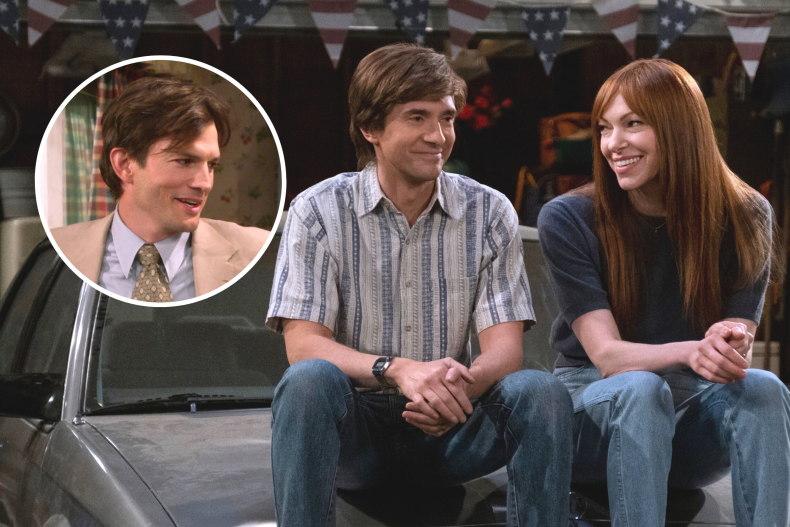 Debra Jo Rupp and Kurtwood Smith are back in the roles of Red and Kitty, characters they first played onThat '70s Show in 1998.
Other actors are set to return from the original show are Topher Grace, Mila Kunis, Ashton Kutcher, Laura Prepon, and Wilmer Valderrama.
Grace portrayed Eric Forman, Kunis played Jackie Burkhart, Kutcher took on the role of Michael Kelso, Prepon portrayed Donna Pinciotti, while Valderrama was Fez in the original sitcom. They will all be reprising these roles in the spin-off.
Netflix has confirmed that Kunis and Kutcher's characters Jackie and Michael will be married in the reboot, just like their real-life counterparts.
That '70s Show ran for eight seasons on Fox, and show creators Bonnie and Terry Turner have returned for the spin-off alongside their daughter Lindsey.
Every New Character in That '90s Show
The show follows Leia, played by Callie Haverda, who is the daughter of Eric and Donna.
Other new characters set to appear in the reboot include Leia's new next-door neighbor Gwen, played by Ashley Aufderheide, her brother Nate, played by Maxwell Acee Donovan, and his girlfriend Nikki, portrayed by Sam Morelos.
The cast will be rounded out by Reyn Doi, who will portray Leia's new friend Ozzie, and Mace Coronel, who will play Jay.
In terms of the adult cast members, Andrea Anders is playing Gwen and Nate's mother Sherri
That '90s Show will premiere on Netflix on Thursday, January 19.