A woman in Texas was shot dead by someone who was attempting at the time to demonstrate how to use a gun safely, according to police.
The incident occurred on Sunday morning in Fort Worth. In a statement given to Newsweek, the Fort Worth Police Department said officers were dispatched to the 3700 block of Neches Street, a low-rise residential area to the north of the city, following a call concerning an unconscious person.
Upon arrival, officers found an adult female victim with "an apparent gunshot wound" to her upper body. The victim was pronounced dead at the scene, according to the statement.
Detectives detained four people who were inside the property and secured it. Through their inquiries, they found that the female victim and an adult male suspect were "discussing gun safety when the suspect accidentally discharged a handgun, striking the victim."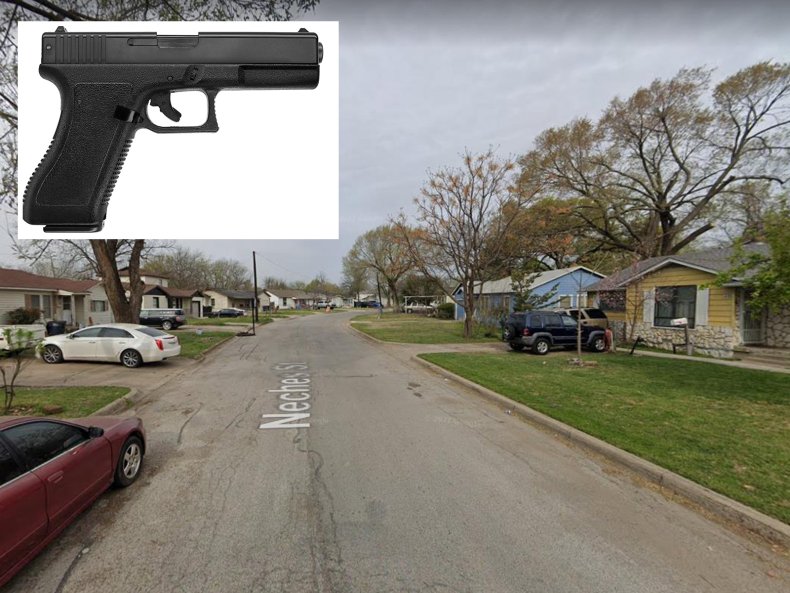 A spokesperson for the Fort Worth Police Department told Newsweek that as of Monday at 6:59 a.m. ET, no arrests or charges had been made in relation to the incident. They could not confirm the relation between the victim and the suspect as "we weren't provided with that information."
According to data produced by the Educational Fund to Stop Gun Violence (now the John Hopkins Center for Gun Violence Solutions), around 500 people die in the United States every year from unintentional firearm injuries. In 2019 alone, 486 Americans died from accidental gunshot wounds, making up 1.2 percent of the total gun deaths that year.
However, fatalities amount to just a small part of the wider picture. Annually, an estimated 27,000 individuals are admitted to emergency rooms for unintentional gun injuries.
Perhaps the most recent and high-profile incident in which a gun accidentally caused death was that of cinematographer Halyna Hutchins, who was fatally shot on the set of the movie Rust in New Mexico in 2021.
Hutchins died at a hospital shortly after she was shot in the chest by a prop gun that actor Alec Baldwin had fired on set. He has stated publicly he had no reason to believe there would be a live round in the gun.
On January 19, a local district attorney announced Baldwin and on-set armorer Hannah Gutierrez-Reed would be charged with involuntary manslaughter. Legal representatives for both have slammed the charges, with Baldwin's attorney Luke Nikas calling it a "terrible miscarriage of justice."
In 2016, Lee Coel, a now-former Florida police officer, fatally shot 73-year-old Mary Knowlton, a retired librarian, while the two participated in a "shoot/don't shoot" demonstration exercise put on by the Punta Gorda Police Department.
The gun had been loaded with real bullets instead of blanks and had been used in a previous exercise.