A school in the city of Tomsk, in Siberia, Russia, was evacuated on Thursday afternoon after a teenager brought a grenade into school for a "life safety" class.
More than 1,000 students and staff were evacuated from the school after the 14-year-old student brought in a grenade that he said he had purchased on the internet at the start of the year as a "souvenir," Russian daily newspaper Izvestia reported.
Law enforcement officials who arrived at the scene said the grenade was a dummy.
The teenager explained that the grenade he had purchased arrived "in deconstructed form" and so he decided to bring it to class in the hopes that his teacher "would help put it together."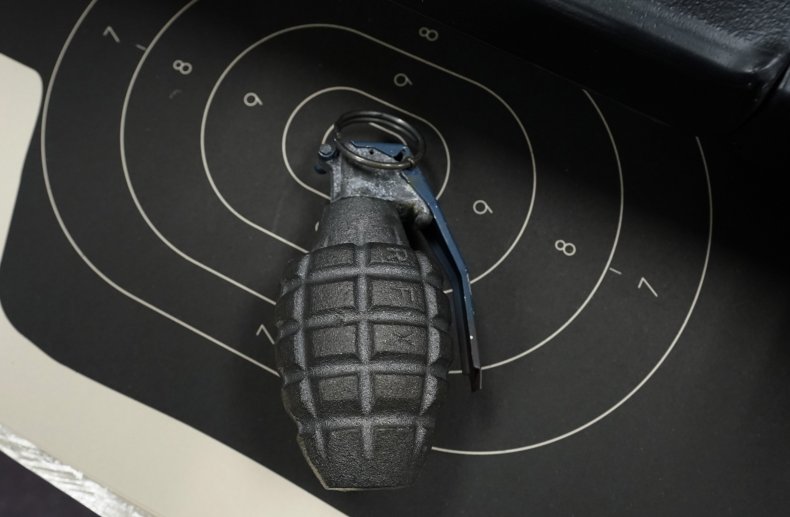 The subject "Fundamentals of Life Safety" is compulsory in Russian schools. It teaches students the basics of civil defense, healthy living, natural or technological disaster relief, basic survival skills, and how to fight cyberbullying.
Russia's education minister, Sergey Kravtsov, said in November that a course of primary military training will be introduced to Russia's school curriculums under the subject, starting in 2023.
"[The course will be] under the mandatory FLS subject," Kravtsov said at the time, noting that teachers will undergo training in preparation for the rollout.
The announcement came months into Russian President Vladimir Putin's full-scale invasion of Ukraine.
Meanwhile, a guest on Russian state television has floated the possibility of preparing children to fight in case they need to go to war.
An excerpt from the 60 Minutes program was shared on Twitter on January 9 by Anton Gerashchenko, an adviser to Ukraine's minister of internal affairs.
"Propagandists are saying a new wave of mobilization in Russia should have begun yesterday, and school children also need to be trained to fight in case they need to go to war," Gerashchenko tweeted.
In the 36-second clip, first broadcast on the Russian state television channel Rossia, the guest made references to Russia allegedly preparing for a second wave of mobilization.
"We have to prepare our population in schools and everywhere else for the fact that we will all have to stand in the same line in case of such events. That is, we don't have to look around thinking we are going to say something scary," the unnamed guest on 60 Minutes said.
The guest, who was wearing a military uniform and appears to be speaking from Popasna in the Russian-occupied Donbas region of Ukraine added: "This is World War III. We have to be ready for it."
Do you have a tip on a world news story that Newsweek should be covering? Do you have a question about the Russia-Ukraine war? Let us know via worldnews@newsweek.com.