Stop the Steal organizer Ali Alexander has said he is pleased the January 6 "narrative" has spread to other countries such as Brazil.
The activist made the comments in a January 16 interview with the Liberty and Justus channel on video platform Rumble.
Alexander said: "It was amazing that Stop the Steal was perfect until the last day, and that's basically cost me my life savings. I think I got mad at God for a time for that, and then it turns out to be the best thing ever. And we got Truth Social. I got my Twitter account back. People are very curious now about the J6 narrative.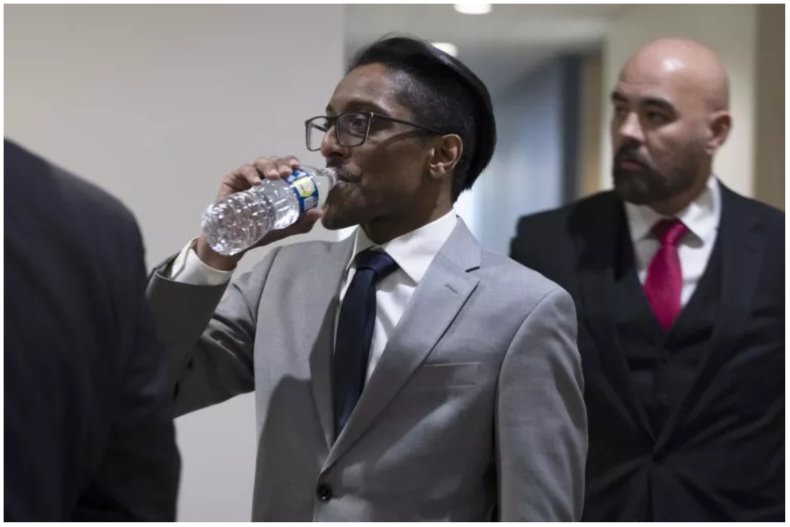 "Brazil, Pakistan, Malaysia, a couple other countries, are really challenging structural power and this is really good. Not because—I am a radical and I am an extremist. I am a revolutionary, but for Christ, for good, and we have a lot of bad in the world.
"There is a satanic system that controls most, if not all, countries, and we are waging against it."
Alexander was one of the organizers of a rally that took place on January 6, 2021, ahead of the riot at the U.S. Capitol. The activist has shared Donald Trump's unfounded claims that there was widespread voter fraud in the 2020 presidential election.
In a comment sent to Newsweek, Alexander disavowed the violence by some Trump supporters on January 6.
Alexander told Newsweek: "I support the right to self-determination for all peoples; Christians, Jews, ADOS [American descendants of slavery], Brazilians, Palestinians, the people of Taiwan—all God's offspring."
He added: "Obviously, I've already said that violence on January 6th wasn't the plan of any of the organizers (which has already been determined as a matter of fact too). Still, people around the world are feeling unrepresented.
"Multinational corporations are too powerful and technocratic governments are too incompetent. It's not nationalism, it's total failure by technocratic elitists around the world that are sparking protests, riots—and in some Asian countries, actual organized rebellions. The West hasn't actually experienced any literal insurrection or rebellion.
"The ethos of January 6 for many of us is about self-determination, not unorganized, unjustified violence. That's what many of us mean when we reference it in a way that makes our partisan opponents uncomfortable."
Unfounded claims of election fraud have become widespread since Trump lost to President Joe Biden. They have been shared by Fox News host Tucker Carlson as well as many of Trump's allies in the Republican Party.
Similar claims have been made by leaders around the world, including the far-right former president of Brazil, Jair Bolsonaro.
Bolsonaro, whose re-election campaign ended in defeat last October, had previously hinted that the presidential run-off could be hampered by fraud. He did not share any evidence to support this.
On January 8 this year, eight days after President Luiz Inácio Lula da Silva took office, Bolsonaro supporters stormed the Brazilian Supreme Court and presidential palace in scenes that bore a striking resemblance to the Capitol riots.
The pro-Bolsonaro protesters, who claim the election was rigged, were removed from the area by military police.
In Pakistan, Imran Khan, who was ousted as prime minister in April, blamed his removal on "a foreign conspiracy."
The former cricket star claimed, without evidence, that the no-confidence vote that had forced him from office was directed by the White House.
In Malaysia, former prime minister Muhyiddin Yassin was rebuked by an election watchdog for claiming there had been fraud in the country's November 2022 ballot.
Thomas Fann, head of the watchdog Bersih, told the news outlet Free Malaysia Today: "Such false claims might play on the Malaysian psyche and sow distrust in the electoral system here.
"If Muhyiddin truly believes that there has been wide-scale fraud, he should go to court instead of making unsubstantiated statements. It is time for him to concede and accept the [general election] result and move on to play the check and balance role of the opposition."
Muhyiddin should not be talking like Trump, Fann added.
The U.S. Capitol riots have inspired election disinformation around the world, according to a report published by the Institute for Strategic Dialogue this month.
The London-based think tank identified more than 200,000 Twitter mentions of the English language hashtags #brazilwasstolen and #brazilianspring since December. The latter is a reference to the anti-government Arab Spring uprisings across the Middle East in 2010 and 2011.
The institute's report said: "Over 26,000 of these mentions were posted between 12-13 December 2022, when Brazil's electoral court certified President Lula da Silva's win. The most shared stories featured a New York Post article citing Twitter CEO Elon Musk's claims that the platform distorted the Brazilian election in favor of the left under the influence of biased staff at the social media platform."
The think tank concluded that election denialism could be found in "most major global elections" since January 6, but its impact was mixed.
The U.S.'s decentralized approach to administering elections gave deniers the opportunity to spread disinformation and propaganda easily, it said. Despite this, many denialist candidates in competitive races lost in the U.S. midterms.
The report added: "Both France and Australia have elections administered by a central authority which is widely known to the public. Again, contrasting with the U.S., French presidential candidates showed restraint and largely denied election fraud narratives.
"In Germany, similar factors resulted in a failure of election denialists to gain substantial ground. Election disinformation was by and large limited to conspiratorial and fringe far-right, COVID-sceptic, and pro-AfD [the Alternative for Germany party] communities. Several factors, including strong trust in mainstream media and Germany's multi-party system being less prone to polarization, limited the reach of electoral fraud narratives."