Tight end George Kittle is serious about what he can bring to the San Francisco 49ers on the field, hence four Pro Bowl selections. But he likes to bring a prank or two as well.
The 29-year-old has made a name for himself with his extravagant personality, which has made him a dream player to be mic'd up so fans can hear his quips on the field of play, as well as his words of encouragement to his teammates.
On a number of occasions, he has been given the opportunity to share his NFL game time experience with football fans. Each time he did not disappoint, with his hollering and whooping as well as telling others in the offensive line why he is proud to be representing the 49ers alongside him.
It's not just his teammates that he likes to prank, as he once pulled a never-to-be-forgotten joke on the Niners faithful, who didn't realize it was April Fools' Day.
On April 1, 2021, Kittle joked that he was no longer with the 49ers and had headed southeast to join Florida's Jacksonville Jaguars.
Many fell for his little jest, but Kittle soon put them out of their misery when he revealed the joke and said he hadn't actually been traded.
In fact, it was the day his newly extended contract started with the 49ers, giving him a base salary of $11.45 million and a five-year deal that could be worth $75 million. And that is no joke.
Kittle has been dubbed "the People's Tight End," with football fans of all allegiances enjoying his lighthearted approach to the game, even if he is fiercely competitive for every down.
Kittle helped create National Tight Ends Day, which encourages a celebration of his playing position's art on the field. It can also provide valuable material for those who love to hear him speak out during a game.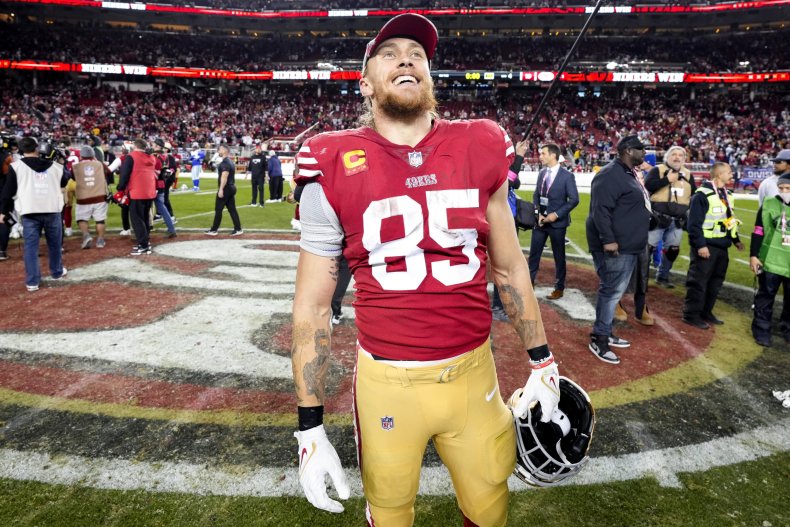 But he didn't need any words when the 49ers were playing the Kansas City Chiefs in the 2021/22 season. Instead, he used his actions to provide some mirth-filled moments during the game.
At one point, Kittle was against Chiefs cornerback Joshua Williams, and Kittle thought he would lead him in a merry dance. After running a short distance near the end zone, Kittle leaped into the air as if to catch a pass that was coming his way.
Matching his move, Williams also jumped so that he could defend the pass. But there was no pass coming, and Kittle let Williams know he had been pranked as he laughed long and hard about it.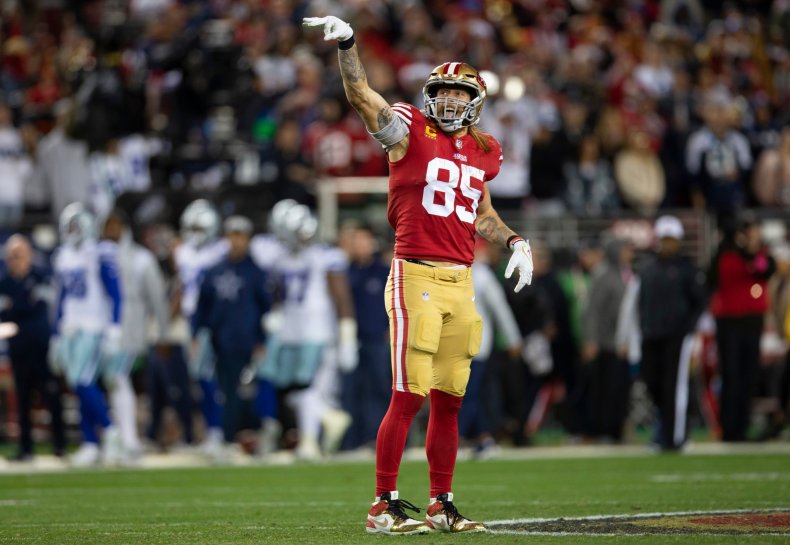 The prankster can be pranked himself, though. Kittle was the target when the 49ers had to resort to Zoom meetings to keep up morale while the sport went on a hiatus during the pandemic.
Kittle liked nothing more than appearing on the meeting calls with an old-school photo of one of his teammates: quarterback Jimmy Garoppolo.
At one meeting, however, it was Kittle who was the victim of the joke, as team reporter Keiana Martin got revenge on behalf of Jimmy G by using a school photo of Kittle as her profile pic, making sure it was not the most flattering.
Do you have a tip on a sports story that Newsweek should be covering? Do you have a question about the NFL? Let us know via entertainment@newsweek.com.