A Russian state TV analyst praised Fox News host Tucker Carlson as "one American" who should not be killed during a recent discussion about how Russia should combat the United States' involvement in the Ukraine war.
Tensions between the U.S. and Russia escalated after Russian President Vladimir Putin launched his invasion of Ukraine last February. Like other Western nations, the U.S. backed Ukraine, providing billions of dollars in military aid that has been credited with bolstering the Eastern European country's defense effort—sparking strong criticism from Russia.
Russian politicians and media figures have repeatedly taken to state TV—aligned with the Kremlin, which cracked down on dissent amid the war—to taunt the West over its involvement, often suggesting the use of nuclear weapons to counter support for Ukraine.
This topic dominated a recent discussion on state TV, in which analysts spoke about how Russia should respond to the Biden administration's support for Ukraine. They floated ideas that would likely result in the deaths of many Americans, but named Carlson as one citizen that Russia would not target. A clip of the discussion was translated and posted to Twitter on Sunday by journalist Julia Davis, who regularly monitors Russian state TV.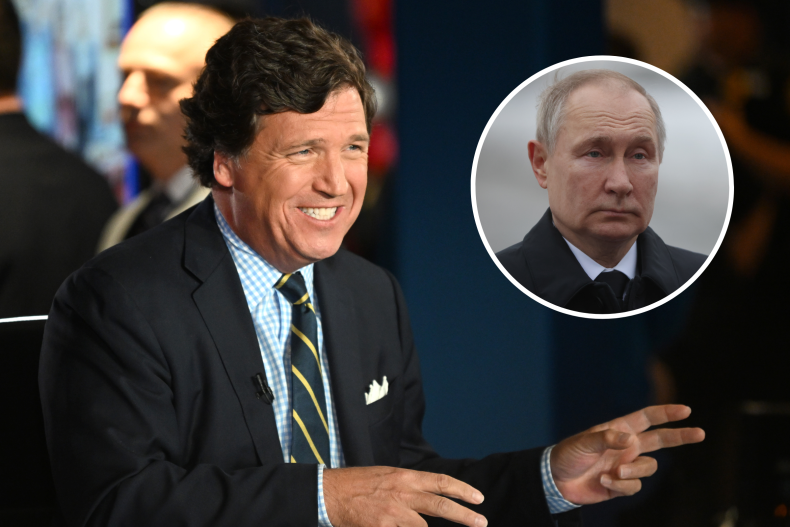 In the lengthy clip, host Margarita Simonyan posed the possibility of nuclear weapons against the U.S. as the end result of the war because she believes neither country would back down from a potential conflict. She acknowledged that nuclear war would likely lead to mutual destruction, but asked: "Who needs the world if Russia is not in it?"
"This can only end with an immediate threat that is voiced and presented, a threat of a nuclear confrontation," she added.
Other analysts disagreed, giving their own ideas on how to deal with the U.S. Host Vladimir Solovyov suggested strikes against equipment that is being prepared to be sent to Ukraine, while political scientist Sergey Mikheyev suggested that Russia could take out "tens of thousands" of American soldiers in a bid to sour U.S. public opinion on Ukraine support.
Russian State Duma member Andrey Kartapolov said, "there is no doubt that this is the prelude to World War III."
Dmitry Drobnitsky, described as an "Americanist," named one U.S. citizen he believes Russia should spare in any of the scenarios floated by his fellow analysts.
"In our country, we embraced one American we wouldn't want to kill," he said. "That would be Tucker Carlson."
Carlson has long faced scrutiny for his remarks on the Russia-Ukraine war, which have been perceived as more sympathetic to the Russian perspective on the conflict. Several clips from his show have been shared by Russian state TV.
In December, Russian state TV praised Carlson for criticizing Ukrainian President Volodymyr Zelensky's attire who delivered an address before U.S. Congress, reportedly calling him "delightful" and "wonderful." In September, amid unrest as some Russians grew weary of the war, Russian state TV also played several Carlson clips.
Newsweek reached out to Fox News for comment.