Russia will destroy Leopard 2 tanks similar to how they beat its predecessor, Tiger tanks, in World War II, according to the Minister of Internal Affairs.
The Russian state-run news agency, Tass, reported on Wednesday that Russian Minister of Internal Affairs Vladimir Kolokoltsev said Russian military forces will destroy the German-made Leopard 2 tanks that will soon be sent to Ukraine.
"They perfectly preserve the picture of Tigers and Panthers burning on Russian soil in the memory of the modern generation. They will remember burning modern Leopards as well," the minister said, according to the Tass news agency.
The comments by Kolokoltsev come shortly after German Chancellor Olaf Scholz announced that the country was sending 14 Leopard 2 tanks to Ukraine.
"Germany will provide Ukraine with Leopard 2 combat tanks—as so far in close consultation with our international allies. Chancellor Scholz declared this in the Bundestag today. He also explicitly addressed those citizens who are worried about this decision," the German government said in a Facebook post.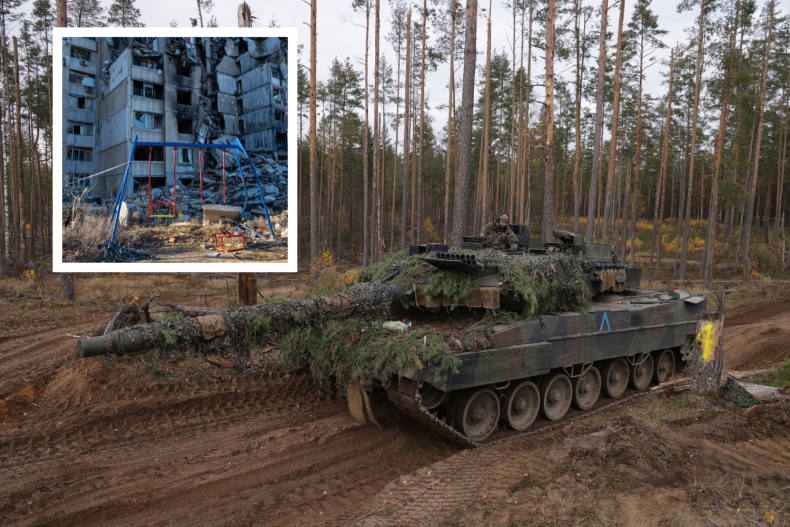 In a tweet on Wednesday afternoon, Ukrainian President Volodymyr Zelensky said, "German main battle tanks, further broadening of defense support & training missions, green light for partners to supply similar weapons."
"Just heard about these important & timely decisions in a call with @OlafScholz. Sincerely grateful to the Chancellor and all our friends in [Germany]," the tweet added.
Prior to the announcement by the German chancellor, the defense group, Rheinmetall, which manufactures the Leopard 2 tanks, said that it could deliver up to 139 tanks, Reuters reported, citing German news outlet, RND.
On Wednesday, the U.S. also announced that it was sending new weaponry to Ukraine, amid its ongoing war with Russia. According to a Senior White House Administration official, the U.S. will send 31 M1 Abrams Tanks to Ukraine.
"Number one, today's announcement that the U.S. is going to send 31 M1 Abrams tanks to Ukraine is very much a continuation of our effort to provide Ukraine with the capabilities that they need to continue to better defend themselves and also, in keeping with that, representative of a long-term commitment that we have to Ukraine's defense needs," the White House official said.
U.S. President Joe Biden also confirmed the new tanks being sent to Ukraine during a press briefing, saying that they are "the most capable tanks in the world."
"That's what this is about, helping Ukraine defend and protect Ukrainian land. It is not an offensive threat to Russia, there is no offensive threat to Russia," Biden said.
Newsweek reached out to the ministry of foreign affairs in Ukraine, Russia and Germany for comment.