Royal fans have praised Princess Diana for her "perfect" curtsy to Queen Elizabeth II on her royal wedding day in 1981, in a video shared to social media that has been viewed more than 11 million times in under a week.
The clip, showing Diana as she dropped into a deep curtsy to her new mother-in-law, following her July 1981 nuptials at St. Paul's Cathedral, London, was uploaded to the video-sharing platform TikTok by user ladydiana_2009.
In addition to millions of views, the video has received more than 2 million likes and nearly 3,000 comments.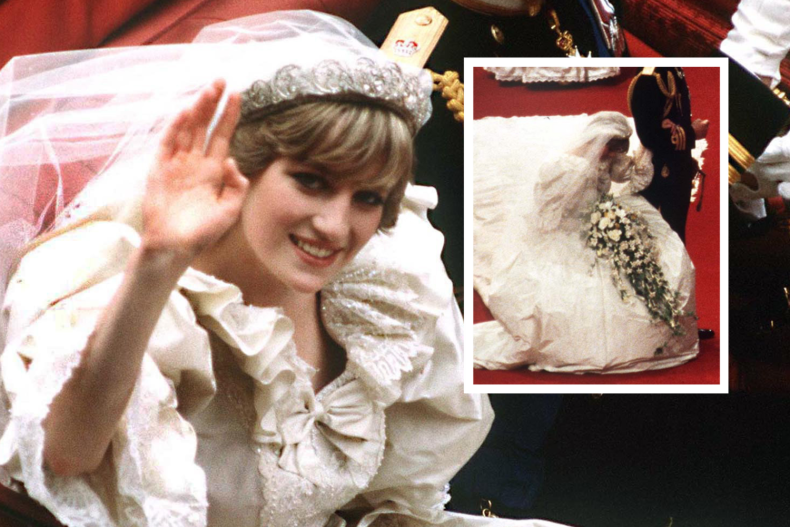 Curtsying is a custom observed by the British royal family as an act of reverence, though there is no expectation for members of the public to perform one, should they choose not to.
Female members of the royal family curtsy to the monarch upon greeting and saying goodbye to them each day.
It is a royal tradition that brides, after they have married, perform a curtsy to the king or queen who is in attendance.
Diana's curtsy took place in front of Queen Elizabeth II, who was shown by news cameras smiling at the new princess of Wales.
Public fascination with royal curtsies has grown in recent months following a controversy sparked by Meghan Markle, who claimed in her Netflix docuseries released in December that she first thought the need to curtsy to her boyfriend's grandmother was a "joke."
"I remember in the car driving up, and he [Harry] said, 'You know how to curtsy right?'" the duchess told viewers of the Harry & Meghan series before performing a deep, medieval-style bow. "And I just thought it was a joke."
Harry was then shown saying: "How do you explain that you bow to your grandmother and that you will need to curtsy? Especially to an American, like, that's weird."
"What a lovely smile of Queen Elizabeth. The Queen loves Diana," the caption of the TikTok viral video read.
"The best curtsy ever," wrote one commenter, with another referencing Meghan's apparent confusion over the gesture, posting: "Completely perfect curtsy. You can't teach it. No wonder Meghan said she found it daunting!"
Meghan has performed a number of public curtsies, each perfectly conforming to the traditional style. The former actress first curtsied to Elizabeth on Christmas Day in 2017, five months before her wedding to Harry.
Contrary to popular belief, Meghan did offer the queen a curtsy on her wedding day, following the tradition set by other royal brides, including Diana and, more recently, her sister-in-law, Kate Middleton.
Meghan curtsied after singing the national anthem at the end of the marriage ceremony. However, the official news cameras capturing the event cut to an overhead shot at this moment, making the curtsy hard to spot.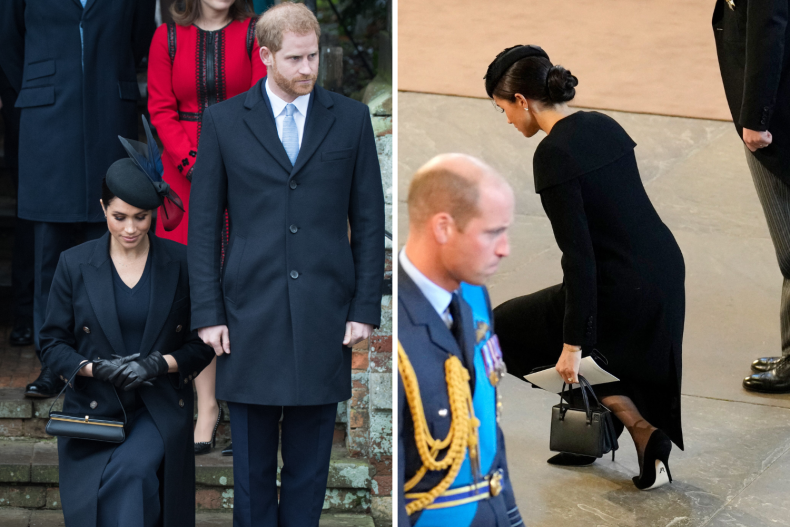 As sovereign, Elizabeth did not have to show reverence, by tradition, to anyone, being the most senior-ranking figure in Britain and in equal rank with other world rulers. The queen did make one particular exception to this rule in 1997 for Princess Diana.
After the princess' untimely death at the age of 36 in a high-speed Paris car crash, the monarch was seen publicly bowing her head out of respect when Diana's coffin passed outside Buckingham Palace.
James Crawford-Smith is Newsweek's royal reporter based in London. You can find him on Twitter at @jrcrawfordsmith and read his stories on Newsweek's The Royals Facebook page.
Do you have a question about King Charles III, William and Kate, Meghan and Harry, or their family that you would like our experienced royal correspondents to answer? Email royals@newsweek.com. We'd love to hear from you.