The leader of the Pastors for Trump organization has attacked evangelical leaders for not supporting the former president in a clip that has begun to circulate on social media.
Pastor Jackson Lahmeyer was speaking on the conservative Water Cooler podcast, when he admitted that he was confused by the disloyalty seen by church leaders toward Donald Trump.
A clip of Lahmeyer on the show was posted to Twitter on January 19, but it isn't clear when the pastor was on the podcast. The video has so far been viewed more than 70,000 times.
Speaking on the show, he said: "It seems as if many Evangelical leaders, prominent Evangelical leaders, are suffering from severe short-term memory loss or something far deeper than that. It is very unfortunate.
"A former spiritual advisor to President Trump, James Robison, who I greatly respect, he recently came out and dissed the President.
"[He did this] by saying Donald Trump is acting childish.
"Let me just say this. The ones that are acting childish right now are the Evangelical leaders who are too afraid to get into the fight for the heart and soul of this country."
Also during the show, he criticized President Joe Biden and accused him of being anti-God and anti-family.
He continued: "How in the world could Evangelical leaders not get behind Donald Trump in 2024?
"Especially in comparison to Joe Biden who is anti-God, anti-family. Our nation is under attack right now at all levels."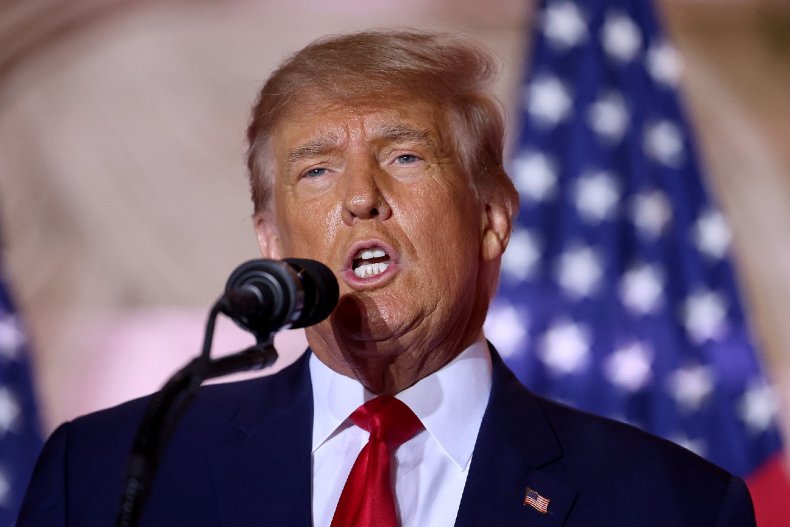 Lahmeyer's comments echo what Trump has said about the lack of support he has gotten from Church leaders regarding his 2024 Presidential bid. The former president said the reluctance to support him was a sign of disloyalty, according to a CNN report.
While speaking to conservative journalist David Brody in a podcast interview, Trump said he had done many things for Christians who oppose abortion.
"Nobody has ever done more for Right to Life than Donald Trump. I put three Supreme Court justices, who all voted, and they got something that they've been fighting for 64 years, for many, many years.
"There's great disloyalty in the world of politics and that's a sign of disloyalty."
Since announcing on November 15 that he would be running again for the top role, Trump has made multiple campaign promises.
Trump has vowed to enact "aggressive new restrictions" on China in regard to energy, technology as well as other assets.
He has also said he would take action against tech companies' online censorship. Trump has also said he will take greater strides to prevent migrants illegally crossing into the U.S. from the southern border.
Newsweek has contacted Donald Trump for comment.