Before two men were killed Thursday in a small-plane crash in New York in stormy weather, the passenger attempted to text his wife moments before impact.
The men have been identified as Boruch Taub and Binyamin "Ben" Chafetz, both prominent members of Cleveland's Jewish community, according to The Jewish Chronicle. The crash occurred Thursday and is being investigated by the Federal Aviation Administration (FAA) and the National Transportation Safety Board (NTSB).
"I love you and the kids," Chafetz texted to a WhatsApp friend group, reportedly mistaking the chat for a text conversation with his wife. "I am sorry for everything I have done. We lost engines. Call and have community say Tehillim (Hebrew for Book of Psalms)."
NTSB spokesperson Keith Holloway told Newsweek that preliminary information indicates that the pair were on board a single-engine Beech A36 that crashed at about 5:30 p.m. ET while attempting to land at the Westchester County Airport. The pilot, Taub, declared an emergency due to engine issues.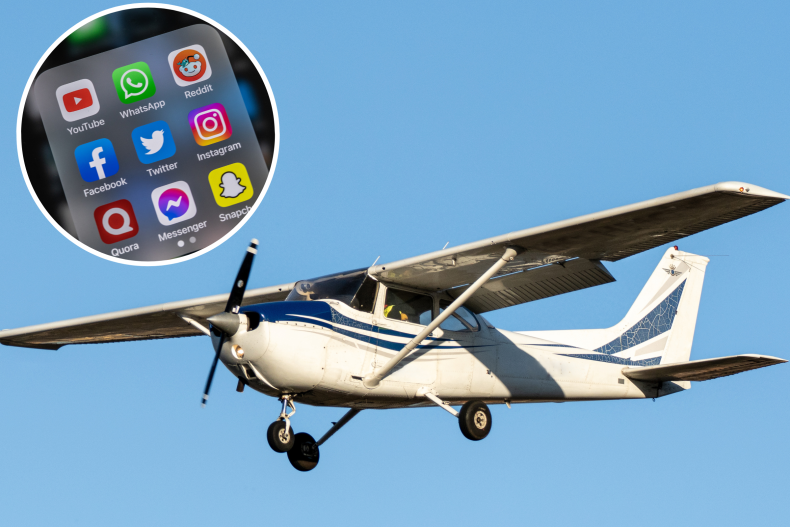 The crash occurred on a peninsula in Rye Lake, about one mile north-northwest of the airport. The men had just departed John F. Kennedy International Airport in Queens, New York, traveling to Cuyahoga County Airport in Richmond Heights, Ohio.
"It is very early in the investigation and there is not much information available at this time," Holloway said. "What I can provide is that an NTSB investigator is expected on scene later this afternoon to begin to document the scene, examine the aircraft, request any air traffic communications, radar data, weather reports and try to contact any witnesses.
"Also, the investigator will request maintenance records of the aircraft, and medical records and flight history of the pilot."
He added that causes of plane crashes often take time in the early parts of an investigation, saying that a preliminary report could potentially be issued within 10 to 12 business days pending facts gathered.
A spokesperson for the FAA told Newsweek that the NTSB is in charge of the investigation.
Westchester County Executive George Latimer said responders searched for hours by air, land and water, according to WJW-TV. Because a thunderstorm caused disruption of drones and similar technology, Latimer said responders ultimately used cellphone location data to locate the crash site.
Taub and Chafetz were reportedly found dead about five hours later in a tree, among the wreckage.
"They leave a hole at their dinner table, in their homes," Latimer said. "They leave a hole in their communities—communities of faith."
The Yeshiva World reported that Jewish volunteers were on site to assist with the NTSB and other local, state and federal authorities, as well as to administer proper Jewish burial practices.
"Obviously, this is a horrible tragedy in our community at-large and certainly the Orthodox community," Representative Mike Lawler, who represents New York's 17th Congressional District, told The Yeshiva World.
"My office worked closely with the deputy county executive and county executive's office to make sure that all measures were taken once the bodies were recovered, to ensure a proper burial in keeping with the customs and traditions of the Orthodox faith."
Last February, Chafetz, of Beachwood, Ohio, was profiled by AMI Magazine about his e-commerce business called 121eCommerce.
He described his rise as an entrepreneur, starting his own business and developing websites for Fortune 500 companies and others. He also spoke of how his father died when he was an infant, causing him and his mother to move to Providence, Rhode Island, when he was 2 years old. He also grew up in Worcester, Massachusetts.
"I remember the first time I was in New York," Chafetz recalled to AMI. "I was in sixth or seventh grade at the time. I was shocked to see someone on the street with a yarmulke. I yelled with excitement every time I saw someone with a yarmulke. Until then I had no clue there were other Jews in America."
He also discussed being labeled as learning disabled as a youth, placed in a school for children with severe disabilities and special needs. His classmates included children with Down syndrome and severe autism.
Chafetz leaves behind a wife and seven children. His funeral was scheduled to take place earlier Friday. Taub's funeral is scheduled for Sunday morning.
Newsweek reached out to the Westchester Police Department for comment.