A video of an alleged "racist encounter" on a WestJet flight has gone viral on TikTok, where it had received 5.5 million views at the time of writing.
The 10-minute clip shared by TikTok user @mizz_crizzy is captioned: "My first racist encounter."
The video shows a close-up view of a woman on a plane, holding what appears to be a ticket from Canadian airline WestJet, typing out a message on her phone.
The message said: "I am looking out the window. Other two seats are taken up by two very large, dolled-up black ladies, one of whom is extremely hostile. I am being very pleasant just to annoy her."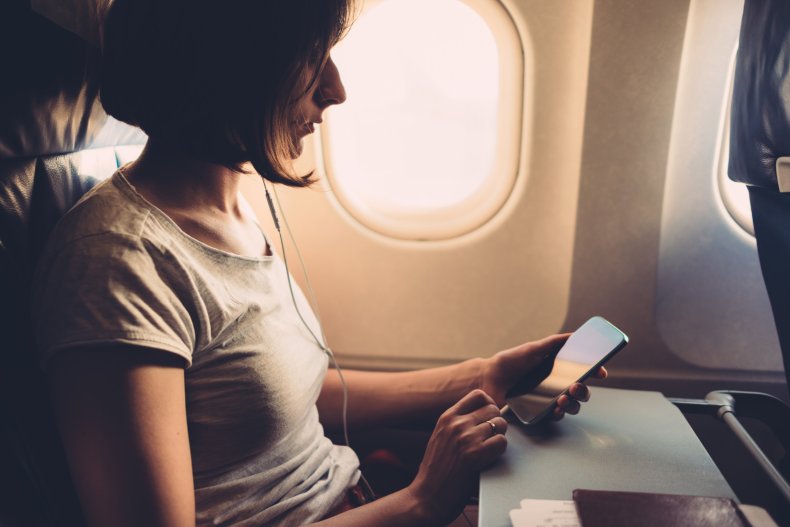 A voice in the video could be later heard saying: "How [am I] being hostile?…[why don't you] put the bag under the seat until we take off?…that's all I repeated."
According to the clip, the woman continued to type out another line in the message, which read: "If I need to use a washroom, I am going to present [that] I am really crippled and ask a steward to help me find another seat."
A voice in the video was then heard saying: "Don't worry, we will help you."
Asked about the footage, a spokesperson for WestJet told Newsweek: "We are aware of the incident and are working diligently to better understand the events that transpired.
"WestJet has a zero-tolerance policy against discrimination and inclusivity is at the heart of everything we do. Our goal has always been to create a safe and inclusive environment for all and we take situations like this extremely seriously," the spokesperson added.
According to a December 2022 report by the International Air Transport Association (IATA), there has been "a long-term trend of increasing frequency and severity of unruly passenger incidents," especially during the COVID-19 pandemic because of non-compliance with mask mandates.
Unruly passenger incidents can also include harassment and verbal abuse.
Figures from IATA show that in 2017 there were 350 reported cases of "inappropriate touching" and racial, homophobic or ageist abuse on flights.
A spokesperson for IATA told Newsweek: "Passengers and crew have the right to expect to enjoy their flight free from any form of disturbance. Airlines and crew take any reports of racial and other forms of harassment very seriously. It is essential that any passenger [who] is either the victim of harassment or witnesses it inform a member of the cabin crew immediately so that safeguarding steps can be taken.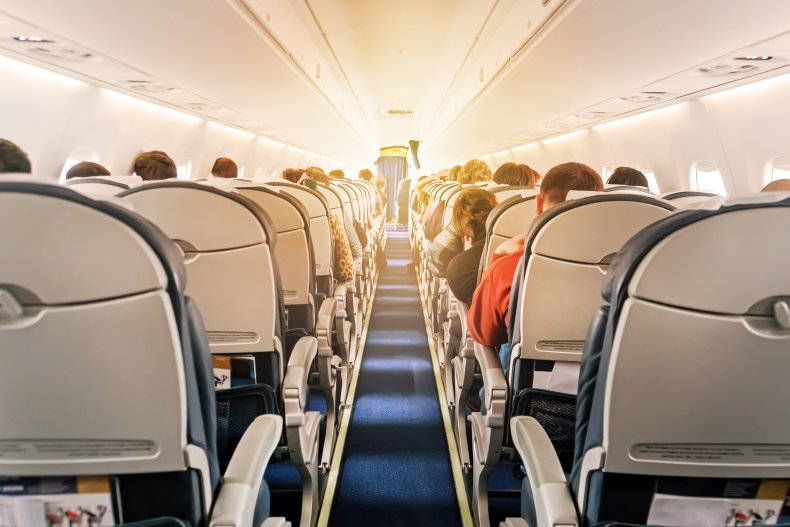 "The operational procedures for handling such incidents during flights are specific to each carrier, but typically would involve a warning being issued to the accused passenger and, where possible, reseating," the IATA spokesperson explained.
If the incident happens on the ground, "the passenger can be offloaded and, if warranted by the situation, delivered to the authorities," the spokesperson noted.
Most reported unruly passenger incidents are classified as "Level 1," which are typically verbal in nature and generally considered "anti-social behavior." Most cases like these can be addressed by cabin crew using de-escalation techniques and training, IATA said.
"That is not to trivialize these incidents, because there is always a danger of incidents escalating, they divert crew attention, and they do impact good order and discipline onboard," IATA said.
The U.S. Federal Aviation Administration (FAA) has seen "a disturbing increase" in incidents where passengers have disrupted flights with "threatening or violent behavior." There have been 2,359 reports of unruly passengers, as of December 15, 2022, according to the federal body.
A spokesperson for the FAA told Newsweek: " The FAA has a Zero-Tolerance Policy against passengers who assault, threaten, intimidate, or interfere with a crew member in the performance of the crewmember's duties. The FAA investigates incidents that airline crews report to the agency."
Several TikTokers were shocked and amused by the passenger who wrote the message in the viral TikTok video, for her seemingly slow typing abilities and use of certain phrases such as "dolled up."
User leandra. wrote, "that took forever," in a comment that got 29,900 likes, while Chill Dozer agreed, stating, "Every word an up hill battle."
Celina said: "Wow that's messed up."
Morgan Roberts wrote: "I need an update. Is she for real!?"
Angela Turner said: "Dolled up… I would take that as a compliment the lady was clearly jealous of your beauty."
Some users appeared to be sympathetic towards the passenger typing the message, however, such as Brian Neace who said, "I feel so sorry for that old lady…," while user joysanviti wrote, "For me she just feel uncomfortable and scared."
Newsweek has contacted the original poster for comment. This video has not been independently verified.
Do you have a similar story or video to share? Send it to life@newsweek.com with some details and your story could appear in Newsweek.