Oklahoma Republicans are trying to pass legislation aimed at banning drag performances with kids in attendance, according to a bill authored by Republican state Representative Kevin West and introduced to the state House on Thursday.
In the bill, West claims that "drag queens or similar entertainers" are among the categories of artists who take part in "adult cabaret performances," essentially comparing drag artists to topless dancers and strippers. He generally defines drag as "a male or female performer who adopts a flamboyant or parodic feminine persona with glamorous or exaggerated costumes and makeup."
He goes on to suggest passing a law banning this kind of performance from taking place in a public property or location "where the adult cabaret performance could be viewed by a person who is a minor."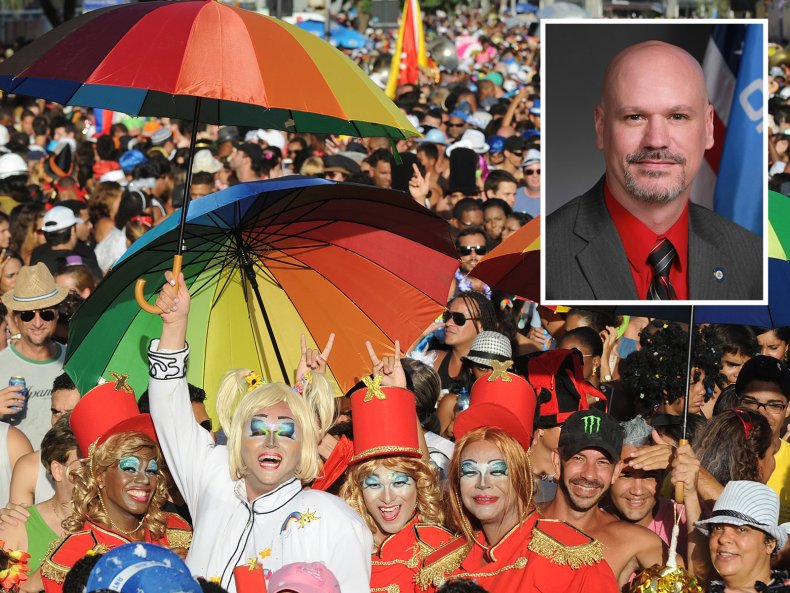 Any person found violating this law, West writes, could be punished with imprisonment for a term no shorter than 30 days and no longer than two years, the payment of a fine of no less than $500 and no more than $20,000, or both.
From there, West takes the bill one step further, proposing the approval of legislation banning drag queen story hour events—which he describes as "an event hosted by a drag queen who reads children's books and engages in other learning activities with minor children present"—from being organized or viewed in public, where a child could see them.
"It shall be unlawful for a person to organize or authorize the viewing of a drag queen story hour on public property or in a location where the drag queen story hour could be viewed by a person who is a minor," West proposes, even as he writes that, by definition, drag queen story hour events are meant to have children as part of their audience.
Any person found violating this ban should be punished with imprisonment for a term not exceeding one year, a fine between $500 and $1,000, or both. While being found guilty of performing "adult cabaret" in front of a child would be considered a felony, West suggests that someone found holding or hosting a drag queen story hour in front of a child should be considered guilty of a misdemeanor.
West calls for the legislation to come into effect on November 1, 2023.
Activist Erin Reed, who shared the document on Twitter on Thursday, called the bill "beyond parody" and accused West of wanting "to outlaw flashy makeup in front of kids."
The Oklahoma bill is just one of the latest attempts made by Republican state lawmakers across the country to limit drag shows, with legislators from Arizona, Idaho, Michigan, Montana, Missouri, Tennessee and Texas also proposing anti-drag laws in recent months.
West's bill mirrors a similar proposal introduced by Republican lawmakers in Arizona earlier this month, which wants to classify drag as "adult cabaret performance" and make it a misdemeanor to hold a drag performance in a public space. Another bill was introduced in the state earlier this month that seeks to ban the use of state money for drag shows for anyone under 18.
The bills introduced in both Arizona and Oklahoma, among others, fit in with the anti-LGTBQ sentiment recently fomented by conservative politicians across the country.
Drag queen story hours, in particular, have been the target of Republicans' anger, with Florida Senator Marco Rubio last year claiming that the events placed "young children in close proximity with adults who are intentionally and explicitly sexualized."
Newsweek reached out to West for comment.