Representative Marjorie Taylor Greene sees a "potential president" in herself, according to former White house adviser Steve Bannon.
"Paraphrasing Cokie Roberts, when MTG looks in the mirror she sees a potential president smiling back," Bannon told NBC News on Wednesday. Roberts is the late political journalist who—once using the hyperbole that politicians have a presidential seal on their "shaving mirrors just so they can get used to it"—said she believed all members of Congress are gunning for the White House.
On Wednesday, it was reported that Greene is positioning herself to be former President Donald Trump's 2024 running mate. Asked about those ambitions, Bannon, who has hosted Greene several times on his War Room podcast, said, "This is no shrinking violet, she's ambitious. She's not shy about that, nor should she be.
"She sees herself on the short list for Trump's VP."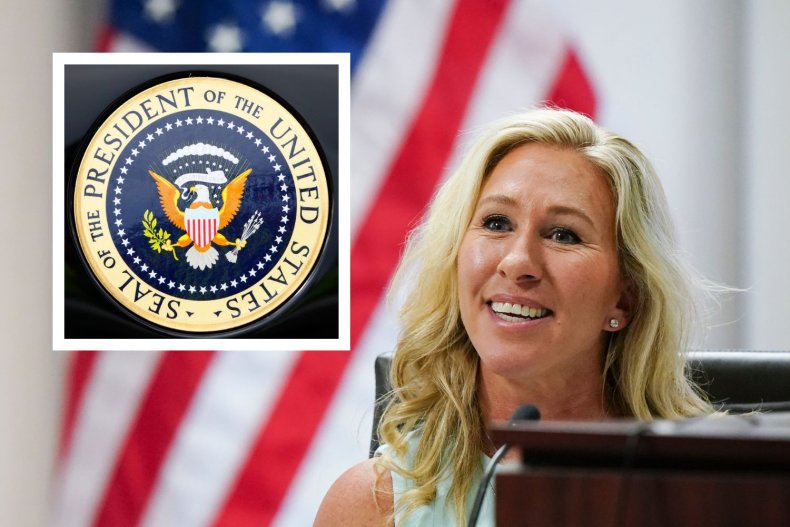 Currently, Trump is the only Republican candidate with an official bid for the presidency, and many have speculated whom he will pick to appear on the ballot alongside him.
Greene has been among Trump's staunchest allies in Congress throughout his time as president and since he left office. And despite being a controversial firebrand who had been cast as a right-wing extremist during her first term, the Georgia Republican has emerged as an influential figure since her reelection last November.
This month, Greene made the unexpected move to break away from most of her House Freedom Caucus colleagues to back Representative Kevin McCarthy's bid for the speakership. Following his drawn-out but successful election, McCarthy handed the GOP congresswoman two committee assignments, including one on the Homeland Security Committee, which drew criticism because of Greene's previous support of 9/11 conspiracy theories.
A New York Times report published Monday quoted McCarthy as telling a close friend that he will "never leave" Greene. "I will always take care of her."
"She's both strategic and disciplined," Bannon said of Greene. "She made a power move [in endorsing McCarthy for speaker], knowing it would run up hard against her most ardent crew. She was prepared to take the intense heat/hatred short-term for the long-term goal of being a player."
Greene is reportedly trying to gain legitimacy by building a reputation as the bridge between the House GOP's establishment wing and its more conservative members, and emphasizing her fundraising skills. In the 2022 midterm cycle, she placed in the top 10 of all House candidates, pulling in almost $12.5 million.
While Trump has yet to announce his running mate, it's unlikely that he will pick former Vice President Mike Pence for a third time.
In the wake of the January 6, 2001, Capitol riot, the pair's relationship has deteriorated. After Trump refused to call off his supporters, including those calling for Pence to be hanged, Pence "decided it would be best to go our separate ways," the former VP wrote in his new memoir.
Kari Lake, a former Republican candidate for Arizona governor who has promoted Trump's election fraud claims, has also been floated as a potential running mate for Trump's 2024 campaign.
Newsweek reached out to Greene for comment.