President Joe Biden on Wednesday appeared to momentarily state the wrong country's name while delivering an important announcement regarding the sending of tanks to Ukraine.
The slipup occurred as Biden listed statistics for various armaments sent by Ukraine's allies to aid the country against the invading Russians. He said such supplies were "all to help counter Ukraine's brutal aggression that's happening because of Russia."
The president seemingly meant to say "Russia's brutal aggression." He paused briefly after he said aggression, then added the statement about Russia to the end of the sentence. Earlier in the speech, he had said the phrase "Russia's aggression" multiple times.
The gaffe occurred during Biden's announcement that the United States would provide Ukrainian President Volodymyr Zelensky's forces with 31 M1 Abrams battle tanks.
GOP War Room, an official YouTube account for the Republican National Committee, shared a clip of Biden's mistake. The post was captioned "Biden Makes No Sense."
Several social media users and a few right-wing outlets also quickly picked up on Biden's error and posted messages about it.
"Statements like this are why his lawyers are suddenly finding he left classified documents everywhere," journalist Dan Cohen tweeted about the gaffe.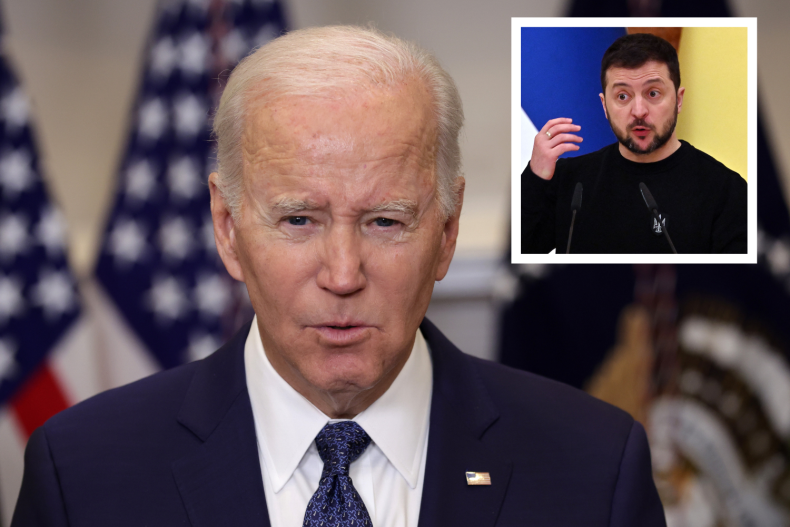 Biden was recently subjected to online mockery from social media users when he mistakenly referred to the 2021 riot at the U.S. Capitol as "July the 6th" instead of January 6 while delivering a speech on the second anniversary of the event.
That verbal blunder came at a White House event where Biden awarded 14 individuals with the Presidential Citizens Medal, one of the nation's highest civilian honors, for their actions in thwarting the Capitol rioters.
"If I can halt for a second and just say to you the impact of what happened on July the 6th had international repercussions beyond what any of you, I think, can fully understand," Biden said to those being honored.
Biden's Wednesday announcement regarding the Abrams tanks came on the same day that German Chancellor Olaf Scholz announced his country would send Zelensky 14 Leopard 2 tanks. The decision was an abrupt shift for Germany, which had been reluctant to give Ukraine tanks.
The United States had also hesitated for a period before acquiescing to Ukraine's repeated calls for tanks. The Associated Press reported the U.S. initially resisted supplying Zelensky with the Abrams tanks because of the "extensive and complex maintenance and logistical challenges with the high-tech vehicles."
Newsweek reached out to the White House and the Republican National Committee for comment.