President Joe Biden will visit California on Thursday and tour areas affected by the recent winter storms as he faces increasing pressure in Washington, D.C.
California has faced major storms and flooding since late December and the White House announced early on Wednesday that Biden had made more federal disaster assistance available to the state.
The president is also facing difficulties in Washington as newly appointed Special Counsel Robert Hur investigates the discovery of classified documents at Biden's Delaware home and former office.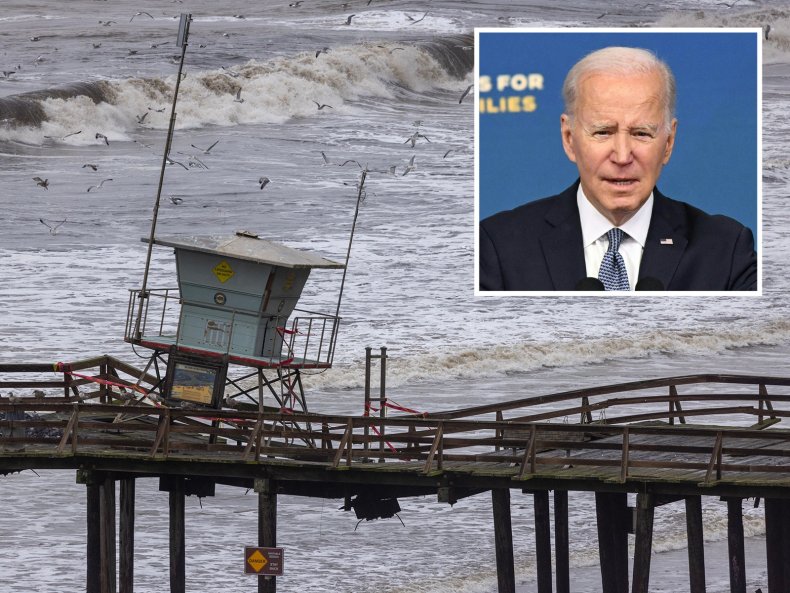 The new House Republican majority is also launching a series of probes into the Biden administration and Republican Representative James Comer, chair of the House Oversight and Accountability Committee, made criticisms on Sunday.
Comer told CNN that the Biden administration "hasn't been transparent about what's going on with President Biden's possession of classified documents."
Biden will arrive into California's Santa Clara County at 3.10 p.m. E.T. (12.10 p.m. P.T.) on Thursday, according to a schedule released by the White House on Wednesday.
Principal Deputy Press Secretary Olivia Dalton and FEMA Administrator Deanne Criswell will accompany the president on Air Force One.
The president will survey storm-ravaged areas via helicopter as he makes his way to Santa Cruz County, where he will talk with local residents and business owners affected by the storms, before meeting first responders and officials.
California Governor Gavin Newsom's office said in a statement on Monday that at least 20 people had died as a result of the storms and that the weather had "forced the evacuation of tens of thousands of residents."
Newsom, a Democrat, signed an executive order to "further bolster the emergency response to severe winter storms and support impacted communities across the state."
Biden will "assess what additional Federal support is needed" during his visit to Santa Cruz County, according to the White House. He'll deliver remarks at 6 p.m. E.T., in which he will "reaffirm his commitment to supporting the people of California as they recover and rebuild from the impact of recent extreme weather across the state."
On Wednesday, Biden amended a disaster declaration for California, which he had issued on January 14, in order to make additional disaster assistance available to the state. That order cited "severe winter storms, flooding, landslides, and mudslides beginning on December 27, 2022, and continuing."
The White House said in a statement that under the amended order, "the Federal share for debris removal and emergency protective measures, including direct Federal assistance, under the Public Assistance program has been increased to 100 percent of the total eligible costs for 60 days from the start of the incident period."
While Biden is under pressure to do what he can to assist California as it begins to recover from the recent storms, he will return to Washington on Thursday evening facing ongoing questions about his handling of classified documents and a new GOP House majority that has already begun probes into his administration and his family's finances.
Newsweek has asked the White House for comment.