Former Saturday Night Live comedian Jim Breuer joked about Buffalo Bills' Damar Hamlin suffering a cardiac arrest during a controversial Christian event.
Breuer, who played the human-goat hybrid Goat Boy on SNL, used the-near death experience suffered by the NFL star to garner laughs on the ReAwaken America Tour, which has been described as an event for conservative Christians.
There were plenty of laughs for Breuer as the audience lapped up his quips about flu vaccines before bringing the house down by mocking Hamlin.
The jokes have been widely criticized on social media as many shared their surprise and disgust that the material was used and that people were laughing at it.
The comedian was speaking to an audience at Pastor Greg Locke's church tent, as part of his Global Vision Bible Church, which has preached a right-leaning rhetoric over the years.
After mocking those who were vaccinated against the flu and joked that those who haven't are seen as conspiracy theorists and extremists, he then changed the subject completely by saying: "Meanwhile, in the NFL…"
Breuer then fell flat on his face and stayed motionless on the floor, much to the delight of those in the tent who must have thought Hamlin's collapse after a tackle when the Bills took on the Bengals was a funny turn of events, rather than one in which first-responders had to perform life-saving treatment for 30 minutes on the field.
The joke was condemned on social media, with one person writing: "Jim Breuer mocks the collapse of Damar Hamlin in front of a laughing crowd. I cannot find the words to adequately describe this."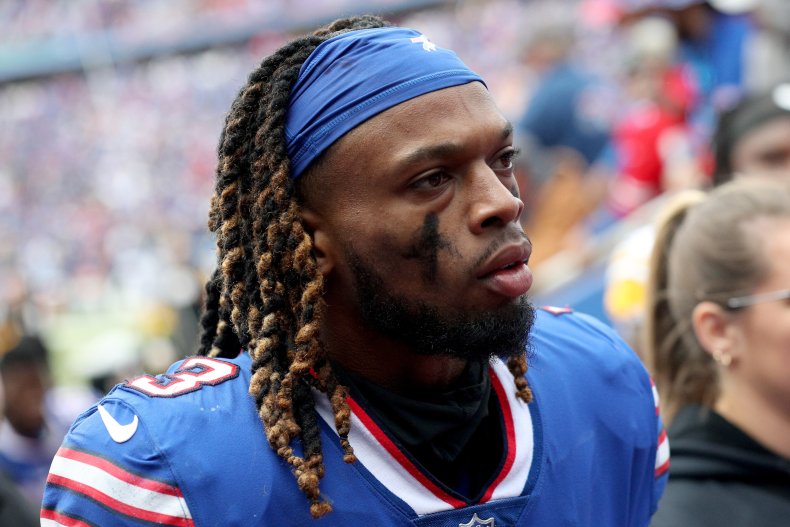 Another added their disgust, tweeting: "Jim Breuer. I'm not sharing the video of his god awful set at some Christian tent event. His comedy is absolute trash. Then to mock Damar Hamlin in your set????? Absolute trash. How is this dude even considered a "comedian?"
While a third wrote: "One, Jim Breuer is an idiot and has always been an idiot.
Two, if you think it is funny that Damar Hamlin nearly died, then you are an irreparably broken and irredeemable human being."
The traveling church has courted controversy in most locations it has pitched up but that hasn't stopped Locke promoting that they are bringing a message from God.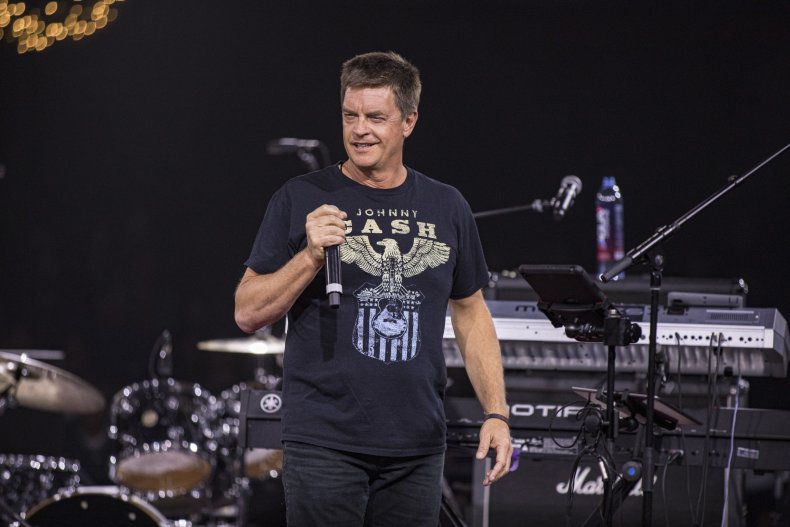 In July last year, Locke took to social media to hit out at those who he believes are attacking the church's values, saying that they would not be going away despite a consensus building against his views.
He wrote at the time: "The public hatred for our church continues to rise. "This is evil, but make no mistake, we're NOT BACKING DOWN OR GOING AWAY."
Hamlin received CPR while being treated for 30 minutes by medical staff at the game before being rushed to hospital, where he was on a ventilator for two days.
By the end of the week, Hamlin had recovered enough to be able to walk around a little and medical staff made arrangements for him to return to Buffalo and be closer to his family and teammates.
A few days later, he was discharged from hospital and continues his recovery at home with his future in the NFL still surrounded in doubt.
Do you have a tip on a sports story that Newsweek should be covering? Do you have a question about the NFL? Let us know via entertainment@newsweek.com.