Donald Trump's futile attempt to sue Hillary Clinton over claims she was a part of a conspiracy to damage his 2016 election bid has ended with a scolding from a judge and a nearly $1 million fine for the former president.
In a damming 46-page ruling on Thursday, U.S. District Court Judge Donald Middlebrooks condemned Trump and his lawyer Alina Habba for attempting to "misuse" the courts by filing dozens of "frivolous" lawsuits against his perceived enemies.
Trump's suits, which had 31 defenders, including Clinton, the Democratic National Committee (DNC) and leading FBI figures, alleged there was an "unthinkable plot" by Democrats and federal figures to accuse him of working with Russia to rig the 2016 election in his favor.
Middlebrooks, who already dismissed the lawsuit in September, punished Trump and Habba further by ordering the pair to pay a total of $937,989.39 in sanctions and legal fees for filing the claims which not only "lacks in substance and legal support," but were mainly used to for "settling of scores and grievances."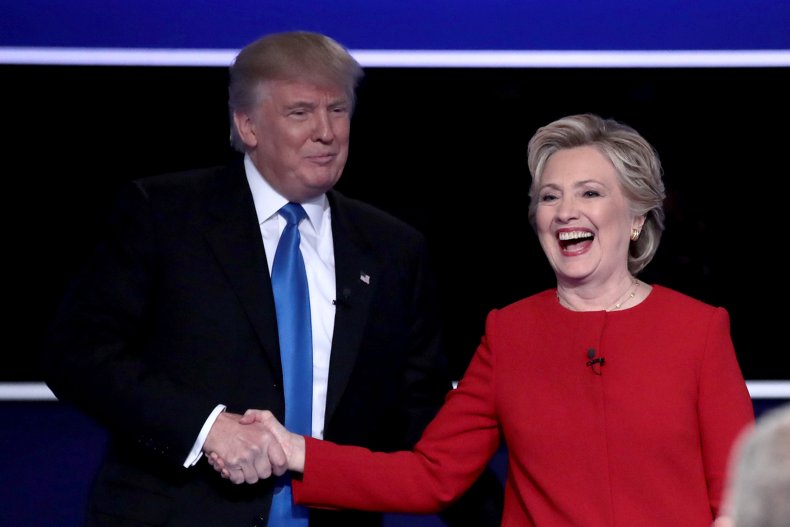 Clinton herself received the largest award of fees for a single defendant at $172,000, Politico reported.
"This case should never have been brought. Its inadequacy as a legal claim was evident from the start," Middlebrooks, who was appointed to the bench by former President Bill Clinton, wrote. "No reasonable lawyer would have filed it. Intended for a political purpose, none of the counts of the amended complaint stated a cognizable legal claim."
Trump has long considered Clinton to be a nemesis, and still, today attempts to use her handling of classified information via a personal email account while she was secretary of state as a means to attack his 2016 rival.
The suit was the latest indication he has no interest in leaving behind what was a particularly bitter presidential campaign.
Trump filed suit in the District Court for the Southern District of Florida in March 2022, more than five years after he beat Clinton in the 2016 election.
The former president alleged that Clinton was part of a "fraudulent scheme to discredit and delegitimize him" ahead of the 2016 election and that the conspiracy was so "outrageous, subversive and incendiary that even the events of Watergate pale in comparison."
In a one-word statement at the time, Clinton spokesperson Nick Merrill told Newsweek that the suit was "nonsense," a sentiment since agreed with by Judge Middlebrooks.
Trump's suit was unable to detail any actual evidence of such collusion, with Middlebrooks calling the legal complaint in Thursday's opinion a "hodgepodge of disconnected, often immaterial events, followed by an implausible conclusion."
"This is a deliberate attempt to harass; to tell a story without regard to facts," Middlebrooks added.
One particular allegation the judge sternly dismissed as "categorically absurd" was the idea that Clinton and former FBI Director James Comey had conspired with each other to work against Trump.
Middlebrooks noted that Comey had reopened an investigation into the Clinton email scandal on October 28, 2016, 11 days before the November election, which was sure to have an "impact" on the race the Democrat went on to lose.
Middlebrooks also condemned Trump for repeatedly using the courts to seek "revenge on political adversaries," with Clinton just one of his many unjustified targets.
"He is the mastermind of strategic abuse of the judicial process, and he cannot be seen as a litigant blindly following the advice of a lawyer. He knew full well the impact of his actions," Middlebrooks said.
Newsweek reached out to Clinton, Trump and Habba for comment.