Gwyneth Paltrow is facing criticism on social media, after she shared her recipe for a salmon salad that she labeled as a "detox reset" meal.
The Oscar-winning Shakespeare In Love star, 50, took to the Instagram account of her wellness and lifestyle brand Goop to share video footage of herself preparing the dish. The ingredients comprised broiled salmon over a bed of grilled zucchini, asparagus and leeks, romaine lettuce and a chive, maple and Dijon vinaigrette.
"What's so nice about this reset is there's so much food in it and it's all so nutrient dense," screen star Paltrow said as she introduced the "bountiful and beautiful" dish to the account's more than 1.7 million followers.
"So good," said the cookbook author as she tasted the product of her culinary efforts. "You would never know that this is a detox."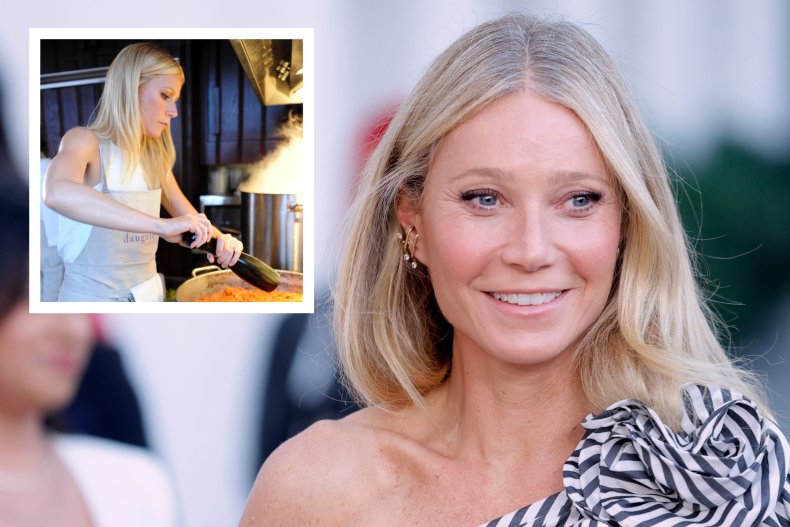 However, the comments section on the post was filled with mixed reviews about everything from Paltrow's choice of words to the way in which she prepared the vegetables, which she generously trimmed before drizzling olive oil over them.
"That's the first meal on this detox series that looks appetising! But please folks, don't murder asparagus like that. Waaaaay too much waste," wrote one Instagram user.
"So much waste on the asparagus," said another.
And then there was the choice of salmon, with one detractor writing: "It was going so well until she used farmed salmon instead of wild."
Another didn't approve of salmon at all, commenting: "I just read an article on how bad salmon is for you out of most fish. It retains the most mercury amongst other things."
Paltrow's decision to describe the meal as facilitating a "detox" also sparked backlash.
"There's no such thing," said one critic. "Your liver is what takes care of cleansing the body of toxins. All this 'cleanse' bulls*** is just another way for you to make cash. People, I'm a nurse practitioner who practices integrative medicine. You don't need [this] ridiculous 'cleanse' gimmicky crap.
"Your body is made in a way to cleanse yourself of all toxins," they continued. "Eat right. Eat healthy, exercise, get enough sleep and get your vitamin D levels up over 60 to have them at optimal levels. Yo Goop Lady!! WTF are you kidding???"
Another stated that "people go to 'detox' to get sober/clean from alcohol and drugs because they are poison. Your organs detox you every day. What foods are poisonous enough that you need to detox? Removing certain foods from your diet is not the same as going through a detox."
However, while the post generated a flood of negative comments, a number of fans defended Paltrow, with one writing: "This looks delicious. And I can't believe the comment section if you don't like her, if you think she's old, if you want to critique the salmon how much vegetable she's cutting up or cutting off, etc. etc. then stop following Goop! Jeez the negative energy is 100 times more toxic than her use of olive oil or her salmon!"
Goop is known for going viral for often outlandish reasons, for example, gift suggestions such as vagina-scented candles.
More seriously, Paltrow's brainchild has faced criticism for marketing products and remedies that have been deemed harmful by medical professionals and giving questionable health advice.
Back in 2021, a Texas man sued Goop claiming one of the brand's vagina-scented candles "exploded" on his bedside table. Colby Watson filed a class-action complaint and sought damages of $5 million, alleging that after burning the candle for three hours, it became "engulfed in high flames" and left a "black burn ring" on his nightstand.
However, a warning on the $75 candle, called "This Smells Like My Vagina," urges users not to burn it for more than two hours at a time.
A spokesperson for Goop told NBC News in May 2021 that Watson's claims had no merit. "We're confident this claim is frivolous and an attempt to secure an outsized payout from a press-heavy product.
"We stand behind the brands we carry and the safety of the products we sell. Here, Heretic—the brand that supplies the candle—has substantiated the product's performance and safety through industry-standard testing."