Republican Representative Don Bacon from Nebraska has said Speaker of the House Kevin McCarthy's decision to remove Democrats from some House committees was "corrosive."
Bacon criticized McCarthy in comments made to CNN chief congressional correspondent Manu Raju on Tuesday as McCarthy officially denied Democratic Representatives from California, Adam Schiff and Eric Swalwell, seats on the House Intelligence Committee.
McCarthy has cited a "new standard" set by Democrats in 2021 when the Democratic majority removed Republican Representatives Marjorie Taylor Greene and Paul Gosar from committees following criticism of their comments and some social media posts.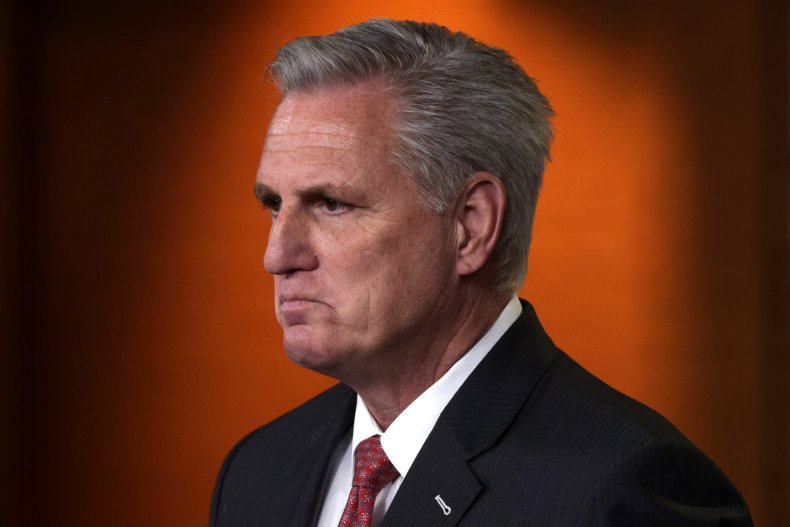 Bacon told CNN: "I think at some point, if I was speaker, I would go over to [House Minority Leader] Hakeem Jeffries. Say OK, we're done. Are you going to be done? Should we promise to never do this again, because I think it's terribly corrosive to the rapport, just the relations in the House."
He is not the only Republican to criticize McCarthy's move to deny some Democratic members committee assignments and that opposition could prove a problem for the speaker.
Republican Representative Victoria Spartz from Indiana has said she will not support an effort to deny Democratic Representative Ilhan Omar from Minnesota a seat on the House Foreign Affairs Committee.
McCarthy has the power to deny members a seat on the House Intelligence Committee but appointments to the House Foreign Affairs committee are decided by a vote of the House.
As Republicans have only a slim majority in the House, it's possible that enough GOP members will oppose McCarthy's plan to prevent Omar from joining the committee, while Republican Representative Greg Steube from Florida is currently recovering from a fall off a ladder and may not be able to vote on the matter.
Republican Representative Nancy Mace from South Carolina has also suggested she might not support denying Omar a seat on the committee, telling CNN on Tuesday: "I'm going to treat everybody equally."
McCarthy wrote a letter to Minority Leader Hakeem Jeffries, which he shared to Twitter on Tuesday, explaining why he had chosen not to seat Schiff and Swalwell on the Intelligence Committee.
"I appreciate the loyalty you have to your Democrat colleagues, and I acknowledge your efforts to have two Members of Congress reinstated to the House Permanent Select Committee on Intelligence," the speaker wrote.
"But I cannot put partisan loyalty ahead of national security, and I cannot simply recognize years of service as the sole criteria for membership on this essential committee. Integrity matters more," McCarthy said.
Swalwell called the move "political vengeance," while Schiff said it was "a terrible move on his part and once again, showing McCarthy just catering to the most extreme elements of this conference."
Newsweek has asked Kevin McCarthy's office for comment.