A FedEx worker in Douglasville, Georgia, is being hailed on Twitter for his composed response to a racist encounter with a customer.
A video posted on the ATL Uncensored Twitter page shows a FedEx driver stopped outside of a house in the Atlanta suburbs. A white man stands at the end of a driveway hurling racial slurs and threats at the driver.
The video, which was taken by the driver and has been viewed more than 4.5 million times, is roughly 30 seconds long. It elicited a slew of responses from people on Twitter criticizing the customer and praising the driver for keeping his composure.
After the customer calls the driver several racial slurs, he threatens to fight the driver if the driver runs over his dog, who was also seen in the footage. The driver laughs, said he wasn't running over anything and continues filming the encounter before the customer walks back up the driveway toward the house.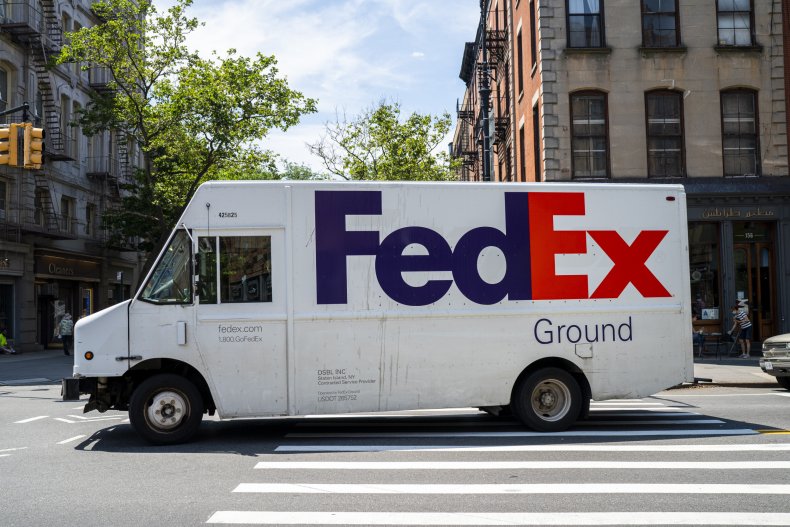 Many people on Twitter commented on the driver's composure during the exchange and suggested that FedEx ban deliveries to the customer's home in the future.
"Well done to the driver for keeping composed. We will all encounter pain and prejudice in life. Society isn't perfect. To be clear—I don't condone this at all, but the driver here is the one in power," one person tweeted. "He's consciously exercised self control."
"Perfect example don't let words get you outta character," someone added.
Others commented on the driver filming the encounter and said they hoped he wasn't fired or reprimanded for catching the exchange on video.
"I sure hope the driver wasn't fired. I agree they need to ban any delivery to this fool's home," one woman tweeted.
In an email, FedEx told Newsweek that it was "reviewing the circumstances" behind the encounter.
"At FedEx, we believe that everyone deserves respect. The behavior depicted in this video is highly disturbing. The safety and security of our team members and service providers is a top priority and we are reviewing the circumstances behind this matter," a spokesperson told Newsweek.
Others said if they had been in the driver's shoes, they would've lost their jobs for the reaction they would have had to being called racial slurs.
"Yea, I'd lose my job that day. I will not be discriminated against or made to feel as if I am beast by anyone, especially when they are not wearing shoes. Im steppin on those toes," someone tweeted, pointing out that the customer wasn't wearing shoes while yelling at the driver in the video.
Others speculated that the reason the driver didn't approach the customer is because they thought maybe the customer was armed with a concealed weapon or that the driver was scared. Several users called the customer's behavior "disgusting."