A failed 2020 U.S. Senate candidate defended her losing strategy to target only white voters in her state, saying she was so successful in her Republican primary because she "didn't try to placate a constituency that would never vote for me."
In audio shared by the social media account Right Wing Watch Wednesday, Lauren Witzke—onetime Republican candidate for Delaware's U.S. Senate seat with close ties to the far-right—could be heard telling an unnamed figure she was able to defeat her establishment-backed primary opponent in 2020 by focusing her campaign exclusively on "my white constituents."
"It is so much easier to flip a union worker than it is an inner-city Black person," she said. "I didn't try to placate a constituency that would never vote for me. So I went after those who have struggled, who had children that were dying from the opioid epidemic, people in unions who were being replaced by foreign workers […] who were being flooded with foreigners who would work twice as long for half as much. I was able to flip a whole base of people from Democrat to Republican based on issues that mattered to white people."
"That matters," she added. "It may be controversial to say that, but that was my method and it worked."
Newsweek has reached out to Witzke for comment. Whether her strategy was effective, however, was a different story, considering she lost her general election bid to incumbent Democrat Chris Coons by about 20 points.
Delaware contains one of the highest densities of Black residents in the nation.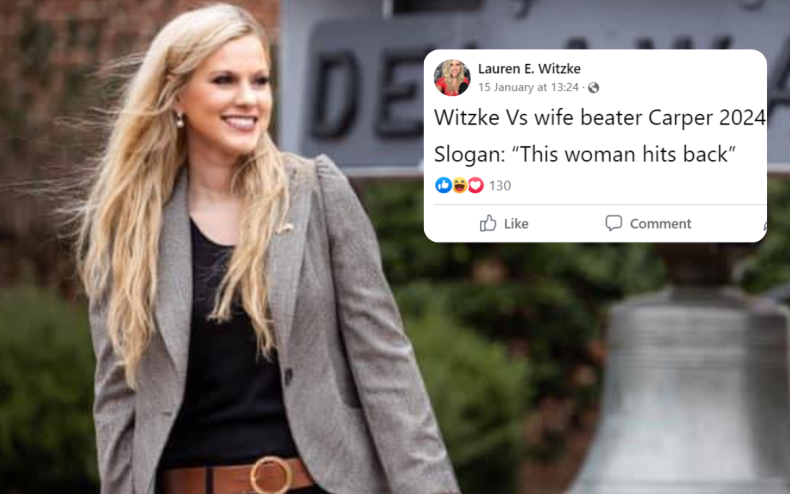 According to U.S. Census data, just under one-quarter of Delaware's population is Black, exceeding the national average by several points and placing it behind just six other states in terms of its percentage of Black residents. Just under 10 percent are Hispanic, leaving just under two-thirds of the state's population consisting of whites.
It's also a very liberal state. Since the defeat of longtime Republican Senator William Roth in 2000, no Republican has come within 17 points of winning a U.S. Senate race in Delaware, with Republican Christine O'Donnell coming closest in her 40-point showing in the 2010 special election against Coons.
And Witzke—an endorsee of white nationalist Nick Fuentes—extols points of view very far to the right of her prospective constituents.
In the spring, Witzke earned significant media attention after claiming she "fully supports" arranged marriages and dowries, adding feminism "has completely destroyed femininity in women."
The onetime devotee of QAnon conspiracy theories also referred to her opponent as a "satanist" and a "baby killer" on the campaign trail over his positions supporting abortion access and, in the time since, Witzke expressed myriad views casting doubts over the efficacy of COVID-19 vaccines and praising demagogues like Russian President Vladimir Putin.
"I identify more with Putin's Christian values than I do with Joe Biden," she said in a video webcast shortly after Putin's Russia invaded Ukraine.
However, her electoral strategy does have some historic roots: In the second half of the 20th century, the Republican Party deployed what was later referred to as the "southern strategy" by sowing racial discontent among white voters.
Several elements of that strategy were later revitalized by some in the 2016 presidential election and beyond by framing immigrants as "job stealers"—rhetoric cleanly adopted by Witzke in her comments.
Witzke, meanwhile, appears poised for a comeback.
"Witzke Vs wife beater Carper 2024," she posted on Facebook this month in reference to Tom Carper, Delaware's other Democratic senator, who admitted to slapping his wife in the late-1970s in a 1998 interview. "Slogan: 'This woman hits back.'"