A former Trump official is blasting the latest controversy involving Florida's public schools by calling out the alleged contradictions of Governor Ron DeSantis' administration.
Former Surgeon General Jerome Adams, who held the post during all four years of the Trump administration, criticized the state's department of education for rejecting an Advanced Placement course covering African American studies for high school students.
Without naming DeSantis directly, Adams questioned why parents and students should be allowed to make their own decisions when it comes to COVID-19 policies, "but not to make a choice about whether to take an advanced course that discusses Black people?"
"This isn't an argument for or against mandates or CRT," Adams tweeted on Sunday. "It's me questioning the logic behind what looks to be a selective/ contradictory/ politically motivated picking and choosing of when to apply school 'choice' and 'freedom' arguments."
Last week, Florida rejected the proposed course because it "lacks educational value and is contrary to Florida law." Although the letter to the College Board Florida Partnership did not specifically state which parts of the curriculum violated state law, Florida has banned the teaching of critical race theory (CRT) in K-12 schools.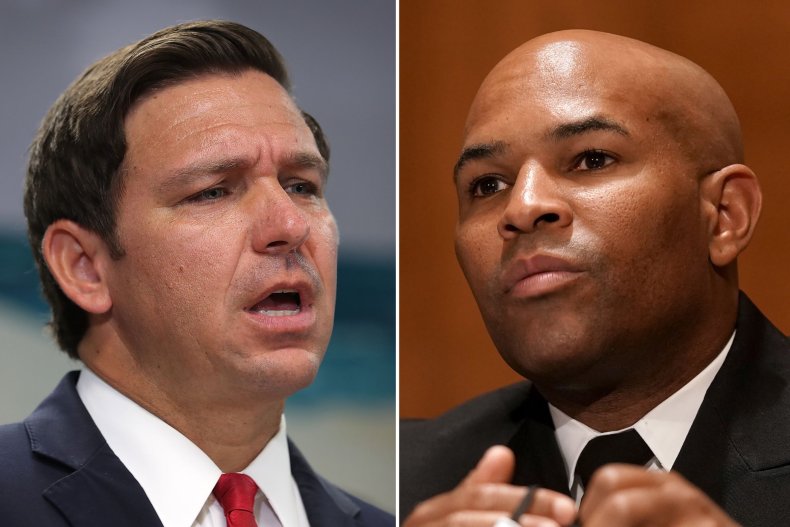 In a statement shared with Newsweek, DeSantis' press secretary Bryan Griffin pushed back on the criticisms the governor has received, saying that "the study of African American history is not only permitted in Florida under Governor Ron DeSantis but required by law."
"In fact, the teaching of African American History has been expanded in Florida since Governor Ron DeSantis took office," Griffin said, pointing to a law passed during DeSantis' first year in office that requires students to learn about the Ocoee Massacre.
Last year, DeSantis signed legislation that restricts how racism can be taught in schools, also known as the Stop WOKE Act, or Stop Wrongs to Our Kids and Employees Act. It prohibits any instruction that could make someone feel "personal responsibility" for historic wrongdoings because of their race, gender or national origin.
During the pandemic, DeSantis made headlines for advocating for parental rights over masks and vaccines, leaving those decisions up to individual families and banning any schoolwide or districtwide mandates.
"Is it that parents should have the freedom to interpret complicated medical and public health studies and direct kids as they wish (regardless of risk to others)… but not the freedom [to] read a course description and decide to let their kids discuss the legacy of US slavery?" Adams tweeted on Sunday.
Jeremy Redfern, deputy press secretary for DeSantis, previously told Newsweek that the Advanced Placement course, as it has been submitted, is "a vehicle for a political agenda."
"As Governor DeSantis has stated, our classrooms will be a place for education, not indoctrination," Redfern said. He added that the governor's office would be willing to reconsider the course should it comply with the state's current law.