Edward Snowden took a jab at high-ranking politicians on Twitter Tuesday afternoon after learning that former Vice President Mike Pence had classified documents at his Indiana home.
Around a dozen documents were discovered in Pence's home last week after months of the former vice president assuring Americans that he didn't take any classified documents upon leaving the White House.
Pence now joins President Joe Biden and former President Donald Trump in their own classified documents scandals. Trump's Mar-a-Lago home in Florida was raided by the FBI in search of classified documents in August, while classified documents were found in November at an office Biden used in D.C. prior to becoming president. A later search uncovered more documents at the president's Delaware home.
Snowden, a former Central Intelligence Agency contractor, has been vocal on the classified documents matter since reports showed that the Department of Justice knew of Biden's document possession as early as November but didn't release the information until January. Snowden previously said the "real scandal" wasn't Biden possessing the documents but the DOJ suppressing information during the midterm elections.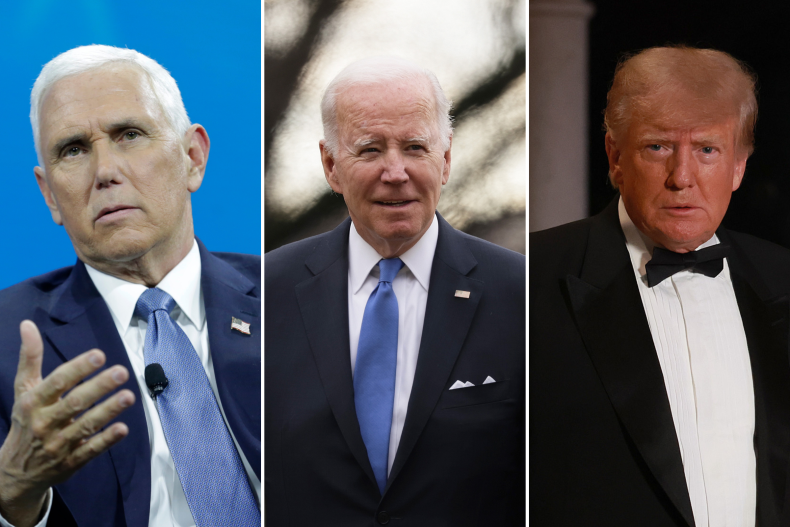 "How is it possible that I have fewer classified documents in my house than the last few White House admins?" Snowden tweeted on Tuesday. "The Espionage Act is a 'strict liability' crime: good intentions are no defense. Under the (dumb) law, these guys are all unindicted criminals."
Snowden fled from the United States in 2013 to escape espionage charges after leaking classified information of internet and phone surveillance conducted by the National Security Agency. The former CIA contractor has criticized politicians several times, saying it's unfair that politicians like Trump, Biden and now Pence aren't facing criminal charges for possessing the documents when whistleblowers leaking similar information are severely punished.
The FBI and DOJ have launched investigations into Trump and Biden. Pence's documents also are under review.
The former vice president's office told Newsweek in a letter that he was unaware that he had the documents, and that they were "inadvertently boxed and transported to the personal home of the former Vice President at the end of the last Administration."
The letter said Pence was willing to "cooperate fully" with the National Archives to return the documents. His office said in a second letter that, despite Pence agreeing to cooperate with the National Archives team to take custody of the documents, the DOJ bypassed procedure and collected the documents directly from Pence's home.
Investigations are ongoing, but no criminal charges have been filed against Trump, Biden or Pence. Snowden, who sought solace in Russia, still faces espionage charges for leaking the classified information in 2013.