Donald Trump has continued to attack the special counsel appointed to oversee the investigation into the classified documents found at the former president's Mar-a-Lago resort.
In his latest swipe at Jack Smith, Trump accused the prosecutor brought in by Attorney General Merrick Garland of "bullying everyone in sight" amid reports that special counsel Robert Hur has not started on his work investigating the classified materials found at President Joe Biden's Delaware home and former office in Washington, D.C.
"While my Special Counsel ('PROSECUTOR') is viciously harassing and bullying anyone and everyone in sight," Trump posted on Truth Social while sharing a link for conservative news site Red State discussing the reports about Hur.
"This should not be allowed to continue. We did NOTHING WRONG!"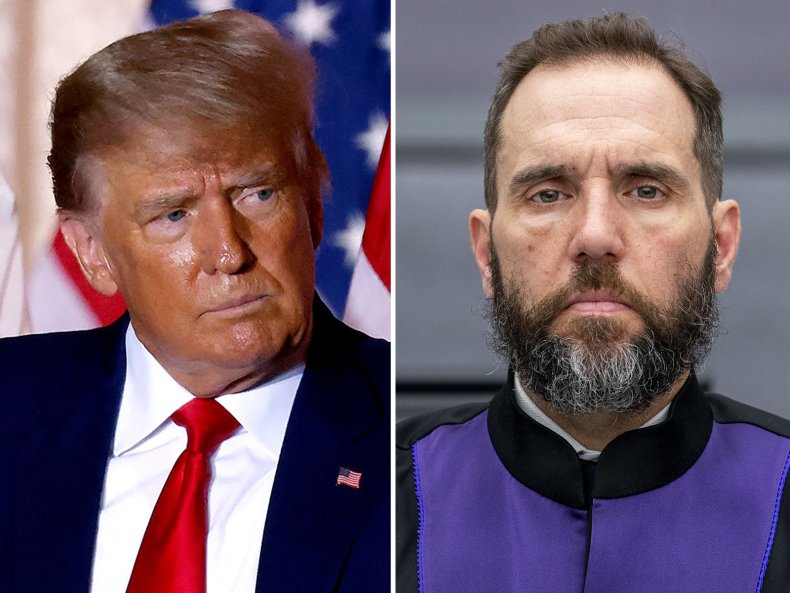 Trump has repeatedly attacked Smith and suggested the veteran prosecutor should be removed from overseeing the classified materials probe because the special counsel is biased against the former president.
In an appearance on The Mark Levin Show on January 12, Trump accused Smith, who is also heading the criminal investigation into the January 6 attack, of being a "terrorist" while calling on him to resign due to apparent conflicts of interest.
"He is a terrorist. He is a Trump hater. His best friends are [Russia inquiry prosecutor Andrew] Weissmann and all of these characters, Lisa Monaco at the Justice Department, one of the top officials. This is a disgraceful situation. He should resign," Trump said.
"His wife hates Trump, probably even beyond him. And his wife has a sister who openly hates like a level that you can't even believe."
Smith's wife, Katy Chevigny, worked as a producer on the Michelle Obama documentary Becoming and twice donated to Biden's 2020 presidential campaign.
Paula Reid, senior legal affairs correspondent for CNN, tweeted that Hur has not yet begun his work looking into the Obama-era classified materials found at the president's private Wilmington residence and the Penn Biden Center, but that the Department of Justice expects the special counsel "to be on board shortly."
Garland said that Hur would be appointed special counsel to review the appearance of the classified materials on January 12.
The report arrived as Biden's lawyer Bob Bauer confirmed that six more documents with classified markings were discovered at Biden's home following a search by the DOJ officials on Friday, January 20.
"DOJ had full access to the President's home, including personally handwritten notes, files, papers, binders, memorabilia, to-do lists, schedules, and reminders going back decades," Bauer said in a statement.
"DOJ took possession of materials it deemed within the scope of its inquiry, including six items consisting of documents with classification markings and surrounding materials, some of which were from the President's service in the Senate and some of which were from his tenure as Vice President. DOJ also took for further review personally handwritten notes from the vice-presidential years."
The Department of Justice has been contacted for comment.