Patrick Mahomes may be laying down his mark on the NFL, being the youngest quarterback to be named Super Bowl MVP when the Kansas City Chiefs beat the San Francisco 49ers 31-20 in 2020, but he is also dad to two children.
The 27-year-old married his wife, Brittany Matthews Mahomes, on March 12, 2022 after a decade of dating. The couple welcomed their daughter, Sterling Skye, on February 20, 2021.
On November 28, 2022, Sterling had a baby brother when Patrick "Bronze" Lavon Mahomes III was born.
Here is what we know about the Mahomes' children and what the quarterback has said about fatherhood.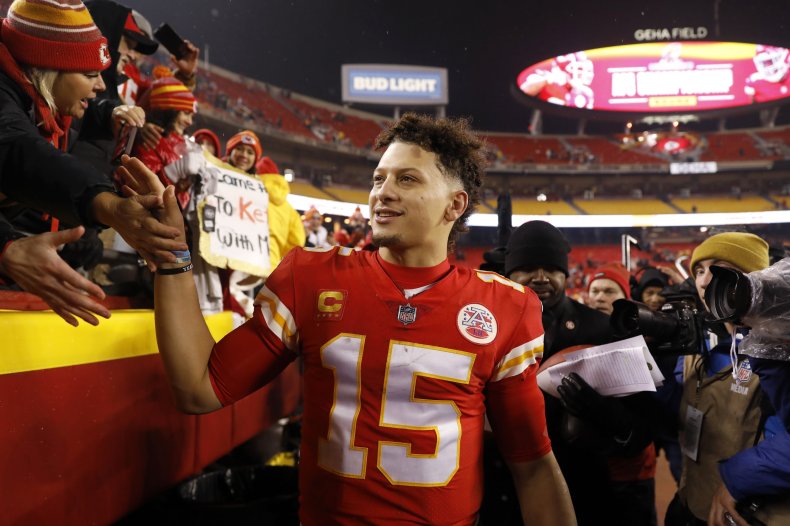 What Has Patrick Mahomes Said About Being a Dad?
Mahomes has embraced being a father, and five months after becoming a dad for the first time, he declared to People that the feeling has "been awesome."
He added that it helped that Sterling was a model newborn. Mahomes felt "blessed to have a really, really good first baby."
There was also plenty of praise for wife Brittany, whom Mahomes credits for being there to help him with the challenges of becoming a father.
He said: "Brittany has helped out a ton being a champion mom, and so it's been a lot of fun and to be able to come home every single day and see her and how energized she is and how she's changing and growing already.
"I'm just trying to tell her to slow down so I can enjoy every minute of it," Mahomes added.
He said that he has grown up more in life since becoming a dad, because of the responsibility that is now placed upon him.
Mahomes added: "Nothing's like having a kid and having someone that you're going every single day knowing that you're trying to take care of.
"It truly is an amazing feeling to know I get to go to work every single day for something and then get to come home and enjoy the time I get with them."
Speaking on Football in America in October 2022, Mahomes said that he would not be pushing his kids to become athletes, but he would support them in which endeavor that seek to follow.
"I'm going to help teach my son, my daughter, all the fundamentals and whatever they want to learn," he said. "But at the same time, I want to stay out of the way and let it be about them."
Mahomes added: "That's what my dad did growing up. That's what my parents did. They let it be about me, let me out there and have fun. They didn't pressure me to do anything. I think that's why I'm in the position I am today."
Here's everything to know about Patrick and Brittany Mahomes' kids.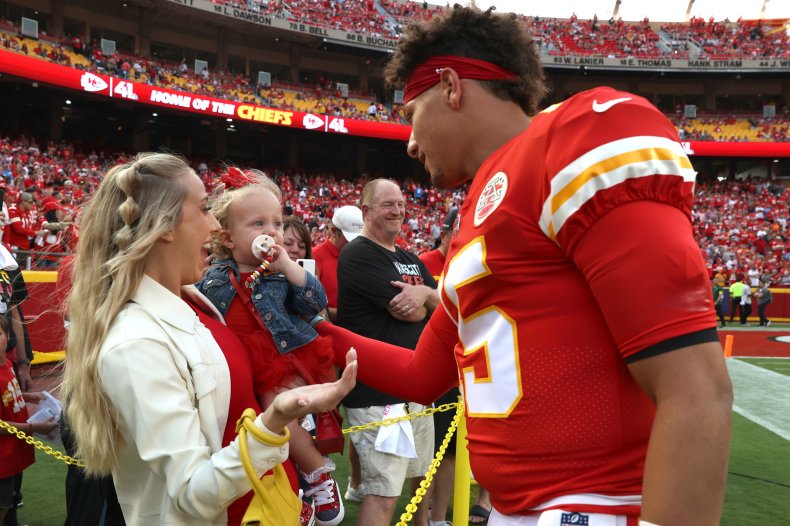 How Old Is Sterling Skye Mahomes?
Soon after Mahomes proposed to Brittany during the Kansas City Chiefs' Super Bowl ring ceremony on September 1, 2020, the couple announced that they would be welcoming their first baby early in 2021.
Their daughter, Sterling Skye Mahomes, was born on February 20, 2021 and weighed 6 pounds, 11 ounces.
At the time, Brittany said that the couple would not be posting photos of their daughter's face on social media until they "felt the time was right."
Fans of the couple had to wait four months until their first glimpse of Sterling, in June 2021, and the following month, Mahomes told Today: "It almost became like a burden to try to hide her at all times when we do stuff, and this coming season, we want her to be at the games and not have to worry about hiding her the entire time.
"We just want to give her the most normal life that she possibly can, so she can grow and have friends and learn and get better and better every single day."
On March 12, 2022, Sterling was the flower girl at her parents' wedding and went down the aisle in a small blue car.
Brittany said about having her daughter present at such a joyous occasion for the family: "Having your daughter apart of your wedding, just hits different."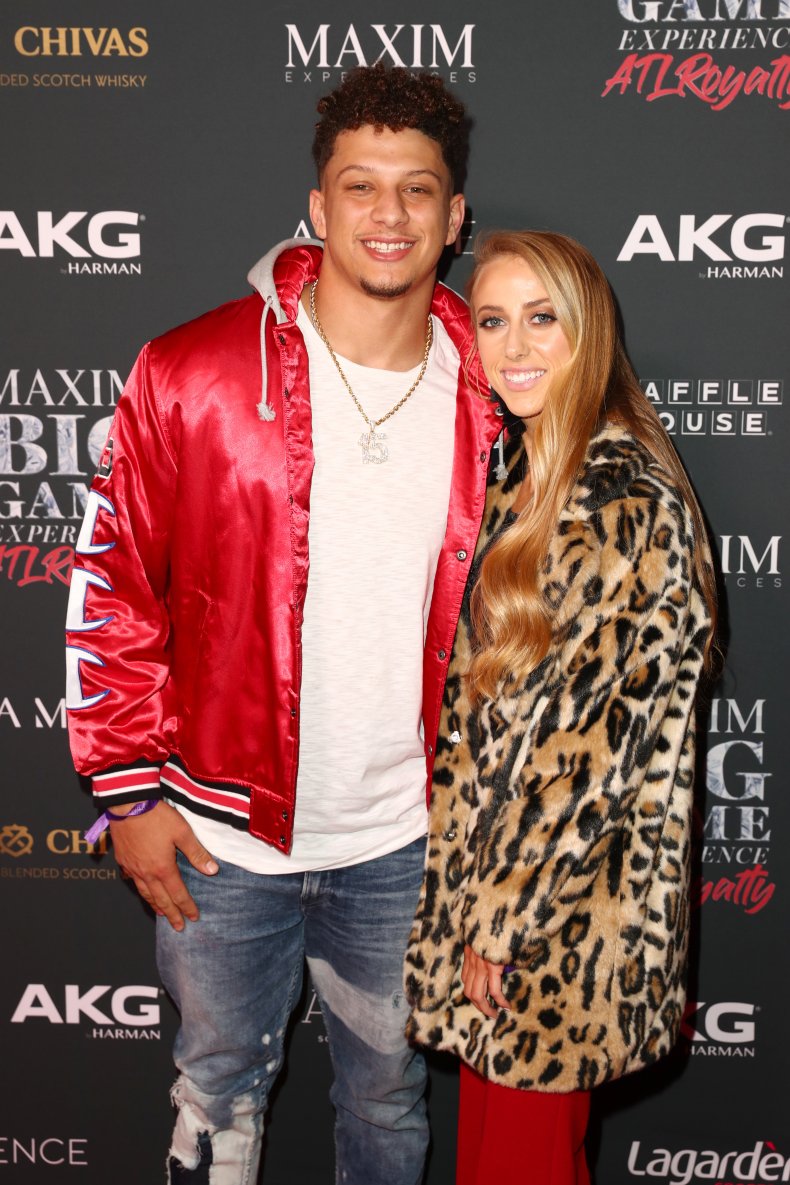 Mahomes has said that one of his biggest challenges as a father will be getting to grips with his daughter's hair, especially as he has not been very good at helping with his wife's on the odd occasion.
He told People: "I will try my best. I've tried to work with Brittany's hair before and I'm not the best at it, but I'll definitely do whatever I can as a dad—and as a girl dad—to learn how to do at least a couple things so if I'm ever put in a position where I'm the one taking care of her hair, I know a couple of tricks."
After the couple welcomed their son, Bronze, Brittany hit out at those who thought Sterling would be 'pushed out', writing on Instagram: "She loves her brother so much & has been just the best little helper!! I felt like so many people were trying to put this negative idea of how much she was gonna hate not being the only child into my head & it was kind of starting to upset me."
Who Is Patrick 'Bronze' Lavon Mahomes III?
When Mahomes said on May 29, 2022 that he and wife Brittany were expecting their second child, he shared on social media a series of photos of daughter Sterling holding an ultrasound pic, along with the caption: "Big sister duties … coming soon."
It was on November 28, 2022, that Mahomes was able to celebrate the arrival of his son with Brittany, whom they named Patrick "Bronze" Lavon Mahomes III.
While enjoying being a family of four, in the build-up to Christmas, Brittany admitted that she had her first challenging day as a parent of two children.
She wrote in a Twitter post on December 14, 2022: "Today is my first day of chaos since having 2 kids. Both screaming, both not wanting to nap."
Do you have a tip on a sports story that Newsweek should be covering? Do you have a question about the NFL? Let us know via entertainment@newsweek.com.