Buffalo Bills star Damar Hamlin's release from hospital and ongoing recovery did little to quash the rampant conspiracy theories that followed his collapse during the game against the Cincinnati Bengals earlier this month.
The 24-year-old safety suffered a cardiac arrest on the field and received CPR while being treated for 30 minutes by medical staff at the game, before being rushed to the hospital, where he was on a ventilator for two days.
Even before any official statements had been made addressing the possible causes, Covid- and vaccine-related misinformation flooded social media, with Hamlin's name getting dragged into familiar "collapsed/died suddenly" anti-vaccine conspiracy narratives in the ensuing weeks.
The NFL star's remarkable—but still ongoing—recovery resulted in his release from the hospital on January 9, with staff paying tribute to the player by wearing his #3 jerseys.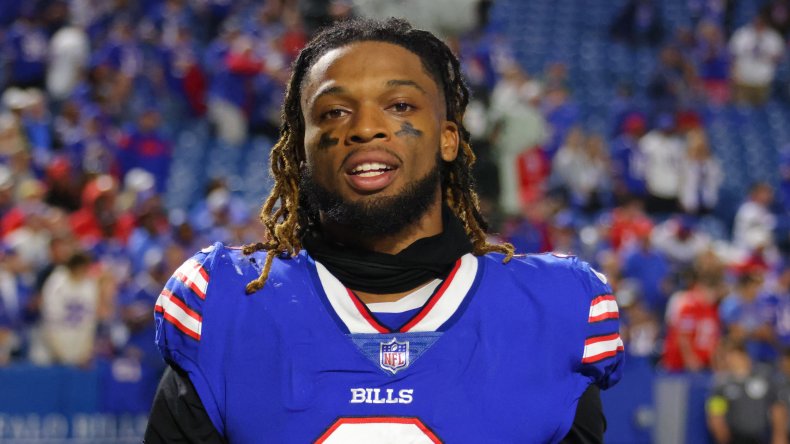 The conspiracy theories got a new lease of life days later, when the player made an emotional return to the Highmark Stadium on Sunday, January 22. Hamlin didn't speak to the media, but he responded to the fans' warm welcome by making a heart gesture, as he was filmed standing in the luxury VIP suite.
The player's decision to cover up his face with sun shades, a scarf and a hood fueled baseless narratives claiming that Hamlin is still in hospital or even has died, and that the person seen in the stadium is a body double and that the NFL is covering up some hidden "truth."
"What's going on in Buffalo? First the Bills owner hasn't been seen in public and now we're supposed to believe this is Damar Hamlin?" a conspiracy post on Reddit said.
One particularly pernicious claim featured a screengrab from what the post claimed to be a "Death Record Database," and purporting to show a "Damar Hamlin" listed in a "Pennsylvania Death Records Database."
The screengrab was sourced from SearchQuarry, a website whose "About" page states that it is a "United States-based public records resource with hundreds of pages and several free tools dedicated to discussing and locating public records information," but whose reliability has been questioned in the past.
The database has previously been used by misinformation-spouting accounts to support similar claims about the American nurse Tiffany Dover, who briefly passed out after receiving a COVID vaccine, to falsely imply that she was dead.
As fact-checkers in that case found, while SearchQuarry asked for payment for access to a document, after the purchase it provided only a general document on the citizen in question, and not the requested death certificate.
The site doesn't appear to be a reliable source of death records, with the free version seemingly using birth, death and other personal records interchangeably, with similar "Death Records" available for other living Bills players, including Kaiir Elam and Ike Boettger.
Other claims promoting this narrative are similarly dubious, mixing in unevidenced statements, wild speculation and misleading content. The Bills star was filmed by a CBS crew arriving at the stadium before the match, and though his face is also obscured in this video, his teammates and coach have since confirmed that he came into the Bills dressing room, albeit briefly.
"It's limited, just overall. But he comes in and really just started really today or yesterday and just trying to get back to a little bit of a routine and just get himself acclimated again and taking it one step, one baby step at a time here," Bills coach Sean McDermott told reporters.
Hamlin's mother Nina and his little brother were also filmed entering the stadium, with the latter featuring in a short video clip, published by the Buffalo Bills' Twitter account, from the booth standing next to Hamlin, who is seen gesturing to the crowd.
Hamlin has been active on social media, both before and since the stadium appearance, sharing a photo from the hospital bed, other images and even appearing, via Facetime call with Michael Rubin and Meek Mill.
While the 24-year-old NFL star hasn't yet addressed the rumors and speculation about his "incognito" dress code directly, it is not uncommon for celebrities to hide their faces during public appearances and it isn't in itself evidence of the use of a body double, let alone of any supposed death.
There can be any number of reasons for the scarf and the hoodie, from the need to keep warm during a winter blizzard, to the desire for privacy during his recovery period, to simply making a fashion statement.
Nevertheless, the controversy and conspiracy theories surrounding Hamlin's collapse and ongoing recovery are unlikely to die down any time soon.
Just last week, social media users shared a screengrab of purportedly a CNN headline stating "Doctor of Damar Hamlin confirms Cardiac Arrest was due to the 4th Booster Vaccine."
The image quickly went viral, even as fact checkers showed that it had been doctored, with the original headline instead simply reporting on the Bills' safety's release from hospital.
Newsweek has reached out to Damar Hamlin and the NFL for comment.