Introducing solid foods to a baby can be both an exciting and stressful phase for parents. Some babies may devour everything, while others may turn their noses up at their new diet like this toddler.
Reddit user SpicyAndCinnamon explained his six-month-old son is being weaned off milk and onto food, but the baby wasn't a fan. So the dad decided to add a little flavor to the mashed sweet potatoes and carrots that he was sharing from his own plate.
This choice led to an argument with his wife who deemed cinnamon, garlic powder, and pepper as unsafe—despite the dad researching the spices ahead of cooking.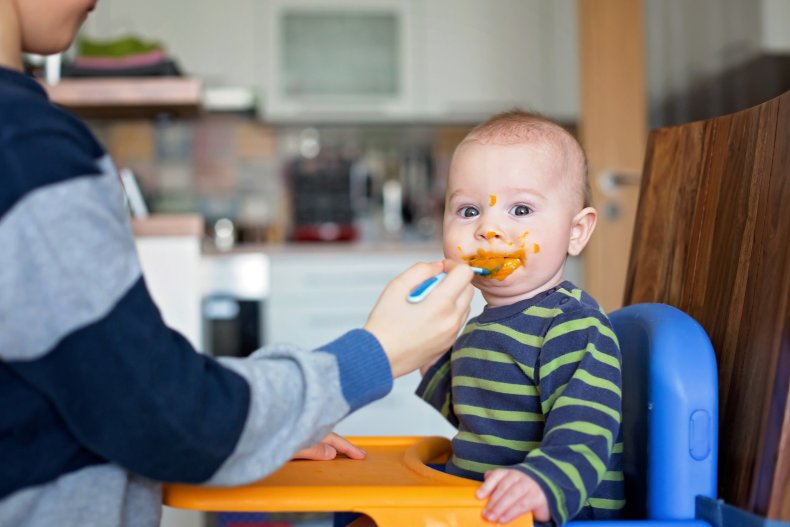 Newsweek reached out to Tok-Hui Yeap, a registered dietitian, who confirmed adding a little spice to baby food is fine.
The dad wrote: "Our pediatrician said that babies like to eat what their parents eat, so I started sharing food with him. The thing is, the plain mashed sweet potatoes and carrots are gross. So I put cinnamon in the sweet potato and some garlic powder and pepper in the carrots, just a little to make it palatable."
Initially, he was going to add honey but research revealed babies under the age of one should not have honey. Honey can contain a bacteria that causes infant botulism, an illness that can occur when a baby ingests toxins, according to the children's wellbeing website, KidsHealth.org.
Yeap, who is also the founder of Kinder Nutrition, said: "It's not wrong to add typical spices to a six-month-old baby's food. It's safe to add a little bit of flavor to baby's food such as garlic powder, onion powder, cinnamon, paprika, coriander, and cumin.
"However, toxicity may happen in certain spices if high doses are used in infants, such as nutmeg, which can cause hallucinations, headache, and vomiting. That's why we should only use spices in small amounts, especially in baby food."
Columbia-trained pediatric dietician Ali Bandier spoke to Newsweek about the viral post. She said: "Children who are exposed to new and different flavors early and often usually have fewer issues with picky eating down the road."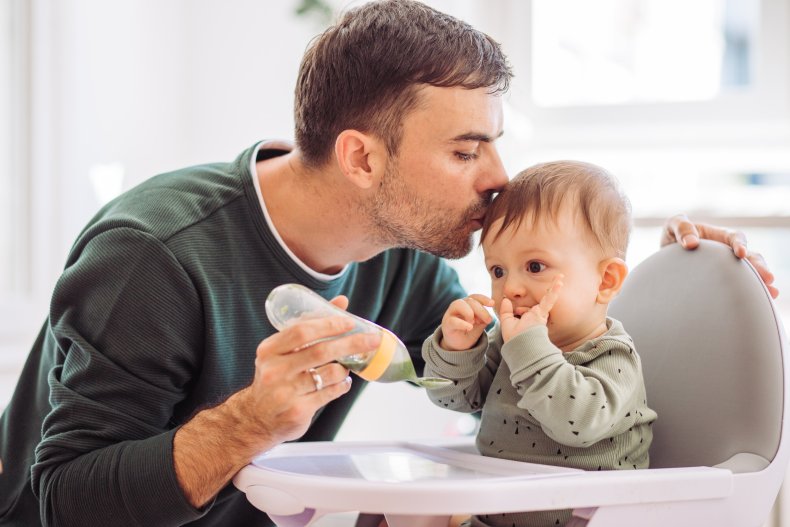 The Redditor wrote: "For the past week, he has been eating with me, and it has been awesome, and he sleeps better too. However, my wife was furious when she saw me put cinnamon in the sweet potatoes. She said it wasn't safe for the baby and I should never have done that without consulting her.
"I explained that I did research, but she said that didn't matter because [a] mother's instincts are more important. I asked what about my instincts, and she said I didn't have any. She said moms instinctually know what is good for their babies."
In total, the post has received 5,300 upvotes and many people have praised the dad.
One user said: "That's so wholesome. 🙂 NTA [not the a******]. I hope your wife comes around."
Another user called him the "best dad ever."
"You sound like a great dad. 🙂 NTA," praised a third user.
Speaking from experience, one user said: "We always gave what we were eating and it's nice not having a picky eater. We don't do bland. But I can't even have spicy foods to myself—my 1.5-year-old loves it all."
Newsweek reached out to u/SpicyAndCinnamon for comment. We could not verify the details of the case.
If you have a personal dilemma, let us know via life@newsweek.com. We can ask experts for advice on relationships, family, friends, money and work and your story could be featured on Newsweek's "What Should I Do? section.