An Indonesian family have been reunited with their drowned son after his body was carried to the surface of the Mahakam River by a crocodile. In footage shared to social media, the deadly reptile can be seen carrying the body of the 4-year old boy to a boat of rescuers, who retrieved him from the water and brought him back to his family.
The boy, who was later identified as Muhammad Ziyad Wijaya, had gone missing two days before near the Jawa Estuary on the east of the island of Borneo in the Indonesian province of East Kalimantan. Members of the East Kalimantan Basarnas Search and Rescue Agency had been searching for the boy.
"Around seven in the morning the team received information from the family that they saw a crocodile carrying a human body," head of the East Kalimantan Basarnas Search and Relief Office Melkianus Kotta told detik.com, a local news outlet. "It turned out that the body was the child we were looking for."
The crocodile carried the toddler's body in his mouth to the surface of the water, a mile away from where he is thought to have drowned. After releasing the boy beside the rescue boat, the crocodile retreated back into the water.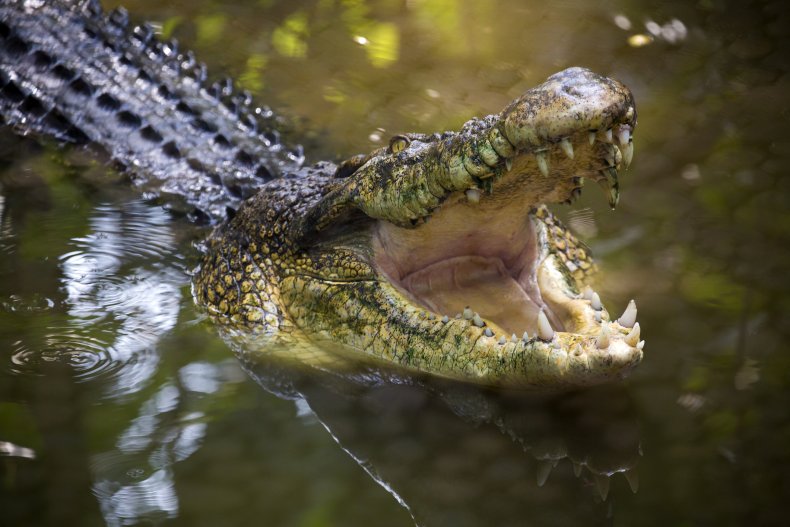 Following a preliminary examination, it became clear that there were no bite marks on the boy's body.
"Nothing is missing; everything is intact," Kotta said.
He went on to say that he thinks the crocodile actually helped the team in their search for the missing child.
Indonesia is home to at least four different crocodilian species, as detailed by the International Union for the Conservation of Nature: the Saltwater crocodile, the largest and fastest of all the crocodile species; the New Guinea freshwater crocodile; the Siamese crocodile; and the Tomistoma.
Around 1,000 people are killed by crocodiles every year around the world, according to the CrocBITE database of attacks. However, this is simply an estimate, and many more attacks go unreported. Just a few months ago, in the West Papua province of Indonesia, a construction worker was dragged under water and eaten alive by a 13-foot crocodile.
Nevertheless, crocodiles have also been known to return human bodies. In 2017, a 41-year-old man named Syarifuddin was snatched by a 6.5-foot crocodile in East Kalimantan, not far from where Muhammad went missing. The local villagers asked for the help of a "crocodile charmer" to bring the man's body back. After the charmer performed a ritual, the crocodile is said to have appeared at the riverbank with a dead body in its mouth, the BBC reported.
In the case of little Muhammad, it is not clear whether the crocodiles had anything to do with his death.
Do you have an animal or nature story to share with Newsweek? Do you have a question about crocodiles? Let us know via nature@newsweek.com.