Bryan Kohberger reportedly had "intimate" meetings with police prior to his arrest in connection with the slayings of four University of Idaho students.
Kohberger, a 28-year-old doctoral student at Washington State University, was interviewed for a research assistant position with the Pullman Police Department seven months before the November 13 killings.
He had an online meeting with the then chief of the department, Gary Jenkins, according to emails between Kohberger and Jenkins obtained by The New York Times.
Kohberger sent Jenkins an email on April 12, 2022, saying it had been a "great pleasure" to meet with him.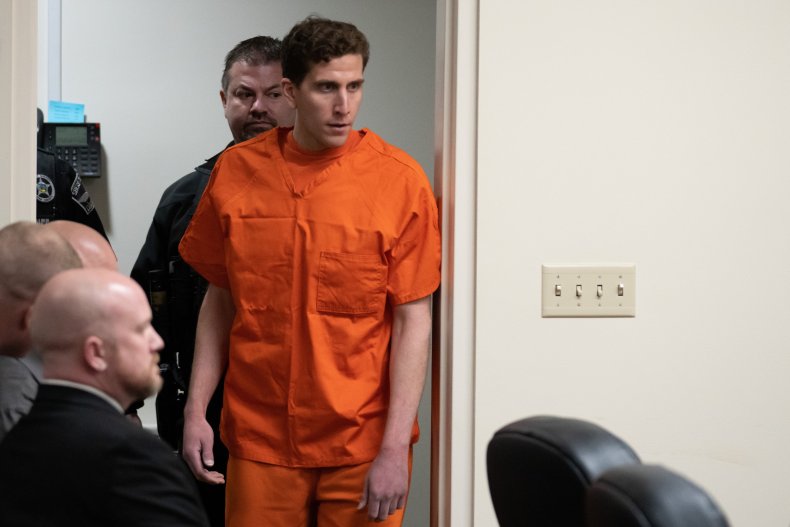 "It was a great pleasure to meet with you today and share my thoughts and excitement regarding the research assistantship for public safety," Kohberger wrote in the email. "I look forward to hearing from you."
Jenkins responded minutes later: "Great to meet and talk with you as well."
The emails indicated that Kohberger was competing with three other candidates that had applied for the job, but it is not clear if he was ultimately hired.
The job was a "graduate research assistantship" created by the university to support local police departments and was set to begin on August 22, the Times reported.
Kohberger lived in Pullman, Washington, which lies about 10 miles from Moscow, Idaho where the murders were committed.
The four students—Kaylee Goncalves, 21, Madison Mogen, 21, Xana Kernodle, 20, and Ethan Chapin, 20—were found stabbed to death in a rental home in Moscow on November 13. Kohberger was arrested at his parents' home in Pennsylvania on December 30 and charged with four counts of first-degree murder and one count of felony burglary.
An attorney who represented Kohberger in Pennsylvania has said his client was "eager to be exonerated."
A probable cause affidavit unsealed following Kohberger's extradition to Idaho earlier this month noted that he had applied for an internship with the Pullman Police Department and that in an essay with his application, he wrote about his interest in assisting rural law enforcement agencies with how better to collect and analyze data.
In an appearance on NewsNation's Banfield, correspondent Brian Entin said it's "just very, very strange to think about what we know now, the fact that he was having these intimate meetings with the police department, emailing the police chief, and then the way everything turned out."
Entin added that the Pullman Police Department "was out there as part of the search at his apartment right there in Pullman, when they pulled all that stuff out after he was arrested for the murders."
Kohberger has yet to enter a plea to the charges. A five-day preliminary hearing is scheduled to begin June 26.
A gag order issued by Latah County Magistrate Judge Megan Marshall bars attorneys, law enforcement agencies and others associated with the case from talking about it.