The U.K. is sending another 600 Brimstone missiles to Ukraine to support the war with Russia, which is nearing its 11-month mark.
British Defence Minister Ben Wallace announced the military aid on Thursday, saying the supplies will be "incredibly important in helping Ukraine dominate the battlefield."
"If President Putin is banking on us getting bored this year, he's wrong," Wallace told reporters during a meeting with other defense ministers at an army base in Estonia. "We will plan for this year and next year and the year after and beyond. We are in it for the long haul."
Brimstone rockets are an advanced and fully fire-and-forget missile system that doesn't require further external interaction after the launch as it accelerated by a propellant rocket motor.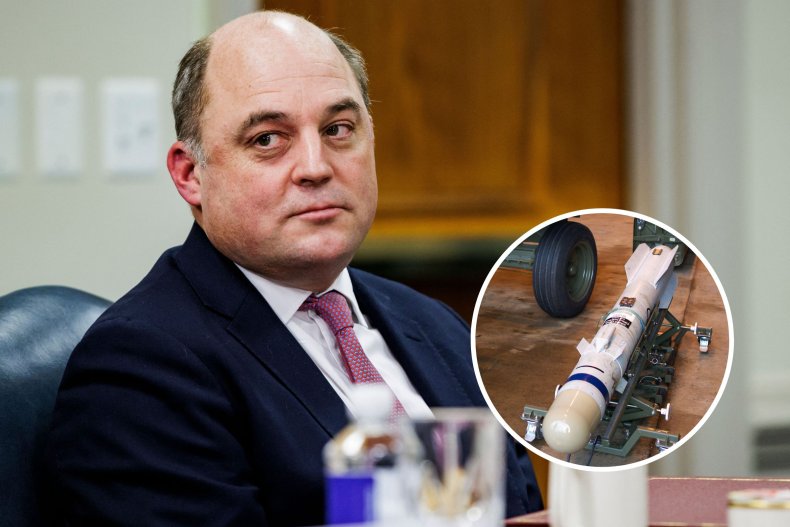 Described as a "lightweight strike missile," Brimstone systems are used to engage fast-moving vehicles and vessels on land and sea and are able to hit a target without the launcher being in the direct line-of-sight of the target, according to army-technology.com. Because the rockets have low smoke emissions, Brimstones are also harder to detect by sensors.
"In 2023, it's time to turn the momentum that the Ukrainians have achieved in pushing back Russia into gains and making sure that Russia understands the purpose now is to push them back out of Ukraine and to restore Ukraine's sovereignty," Wallace said.
His announcement came just a week after the U.K. said it would send more than a dozen Challenger 2 tanks to Ukraine, making it the first Western ally to supply Ukraine with main battle tanks.
The question of whether or not to send heavy tanks to Ukraine has emerged as a key issue between Germany and the U.S. in recent days.
Berlin has refused to allow its allies to deliver German-made Leopard tanks—which are seen as best suited for Ukraine—unless Washington sends Abrams tanks, out of fears that the move could be seen as provoking Moscow. Poland has already offered 14 Leopard tanks and formally requested permission to export them, but Germany has not granted consent for the transfer.
Ahead of Friday's meeting at Ramstein Air Base in Germany, EU chief Charles Michel said on Thursday that tanks "must be delivered" to Ukraine during his visit to Kyiv.
Germany's reluctance has also been criticized by Ukrainian President Volodymyr Zelensky, who has called on the West to send more modern heavy tanks and said Berlin's stance didn't seem to be a "very correct strategy."