Axl Rose and Sarah Ferguson, Duchess of York were among a host of celebrities who turned out to honor Lisa Marie Presley at her memorial service, held at Graceland in Memphis, Tennessee, on Sunday.
Singer-songwriter Presley—the only child of rock 'n' roll legend Elvis Presley—passed away aged 54 on January 12 after being hospitalized earlier in the day.
According to The Associated Press, paramedics were dispatched to a Calabasas, California, residence that morning following a report of a woman "in full cardiac arrest." She was taken to a local hospital, where she later passed away.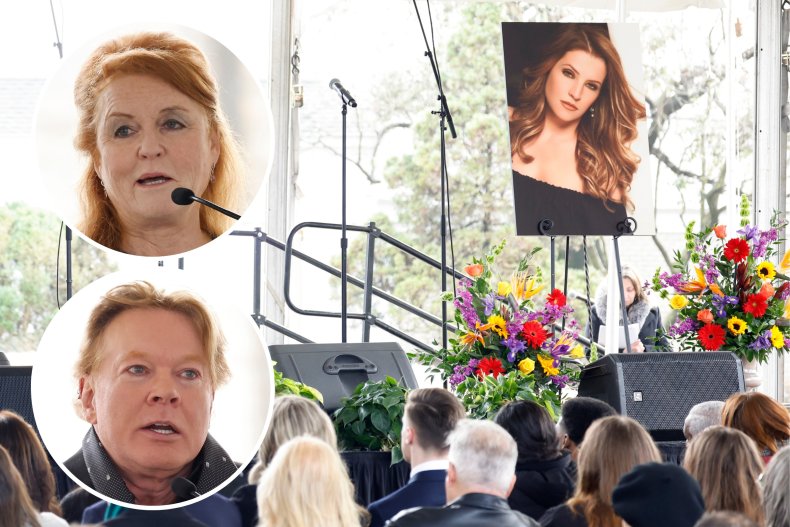 She had two children with her ex-husband Danny Keough—actress Riley Keough, 33, and Benjamin Keough. Benjamin, her only son, died by suicide in 2020 aged 27. With her most recent husband Michael Lockwood, the late musician had twin daughters, Finley and Harper, 14.
Lisa Marie Presley's mother, Priscilla Presley, led mourners at Sunday's livestreamed memorial, which was open to the public and attended by a host of stars that included Elvis star Austin Butler and his partner Kaia Gerber, while the Duchess of York spoke and Rose, Billy Corgan, and Alanis Morissette performed.
"I'm going to read something that my granddaughter wrote, for all of you. And this says it all," Priscilla Presley said, before reading from her phone. "I have no idea how to put my mother into words. The truth is, there are too many. Lisa Marie Presley was an icon, a role model, a superhero to people all over the world. But mama was my icon, my role model, my superhero, in much more ways than one."
"Even now, I can't get across everything there is to be understood or known about her. But as she always said, 'I'll do my best,'" the grieving mother continued, before reading out the poem, which was titled "The Old Soul."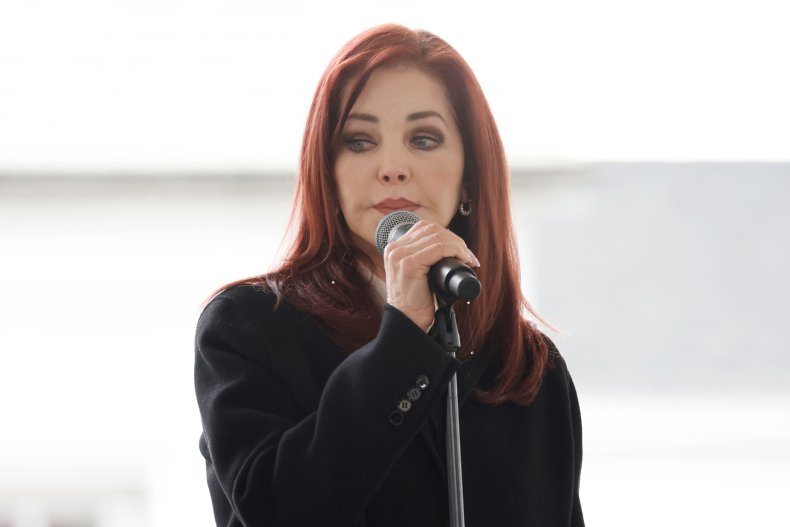 "In 1968 she entered our world, born fragile, tired, yet strong," the emotional matriarch read. "She was delicate, but was filled with life. She always knew she wouldn't be here too long. Childhood passes by with a glimpse of her green eye. She then grew a family of her own. Then came her second child, leading her to suspicion. Could this be the angel who takes me home?"
"Time, of course, flew by. It was time for a tragedy. She knew it was close to the end. Survivors guilt, some would say, but a broken heart was the doing of her death," she went on. "Now she is home where she always belonged, but my heart is missing her love. She knew that I loved her. I fear I'll never touch her. But the old soul is always with me. She doesn't drift above."
"That says it all, and thank you all for being here," Priscilla concluded as she spoke to the attendees. "Our heart is broken, Lisa, and we all love you."
Musician Rose also spoke during the service, where he delivered a moving speech about his late friend before performing one of Lisa Marie Presley's favorite Guns N' Roses songs, "November Rain."
"I'm sure many of you are still in shock as I feel," said Rose as he addressed the crowd. "I'll continue to be for quite some time. I feel like I'm supposed to be texting her like right now saying, 'I'm here,' telling her how wonderful everyone is."
"I never in a million years imagined singing here, especially under these circumstances," he went on. "This is truly devastating."
"I do know Lisa loved her family very much and was fiercely protective of her father and his legacy—both her love for him and his love for her," said the rocker. "She was extremely proud as anyone could ever be of her father and his many accomplishments, his place in music and American and world history."
He also noted how his late friend's life "took a turn down a hard road" following the death of her son, praising her for "seeking out help, choosing to help others who experienced or experiencing such a such a loss and pain."
"Lisa is loved and missed by many and will continue to be loved and missed by all those whose lives she touched," he concluded.
When she took the podium, Ferguson shared a poem called "A Tribute to Their Children" that also appeared on the back of the memorial service program.
The poem, the Duchess of York explained, was written by George Frost, son of British TV journalist David Frost, for his father's funeral service back in 2014.
Lisa Marie Presley, who passed away two days after attending the Golden Globe Awards, was 9 years old when her father died of a heart attack on August 16, 1977.
She was laid to rest at Graceland alongside her father, son, grandparents and great-grandmother, among other family members.