Republicans' decades-long hold on the Mississippi governor's mansion could be in peril.
GOP Governor Tate Reeves has just a 4-point lead over Democratic challenger and four-time Public Service Commissioner Brandon Presley in a hypothetical head-to-head matchup later this year, according to a Siena College/Mississippi Today poll released Thursday. That's a sign that Mississippi, a long-standing conservative stronghold, could be in play for Democrats after years of political failure in the state.
With a 4.6-point margin of error, the poll projects Presley's worst-case scenario against Reeves from a roughly 9-point deficit all the way up to a statistical tie. The survey makes the case that Presley—who's related to rock 'n' roll icon Elvis—could flip control of the governor's office this year.
"It's clear, the people of Mississippi are ready to fire Tate Reeves," Presley tweeted after the poll was released.
Even if Presley loses, a narrow defeat to Reeves would be a stunning development in a state that still trends deeply conservative.
No Democratic presidential candidate has won in Mississippi since Jimmy Carter's 2-point victory there in 1976. And the Democrats that have won the governor's race in Mississippi—there have been several—have been a different breed compared with those at the national level.
Before Daniel Kirkwood Fordice became the state's first Republican governor in more than 100 years, in the early 1990s, the state was dominated by Democrats like Ray Maybus, who was governor from 1988 to 1992. Those Democrats were almost indistinguishable from their Republican opponents, succeeding a long line of "Dixiecrat" politicians whose political stances were largely considered to be more conservative than the national party.
The 1999 gubernatorial election between the last Democrat to win the office, Ronnie Musgrove, and GOP congressman Mike Parker was the closest in Mississippi history. So close that the state's House of Representatives—then dominated by old-school Southern Democrats—was forced to break the tie.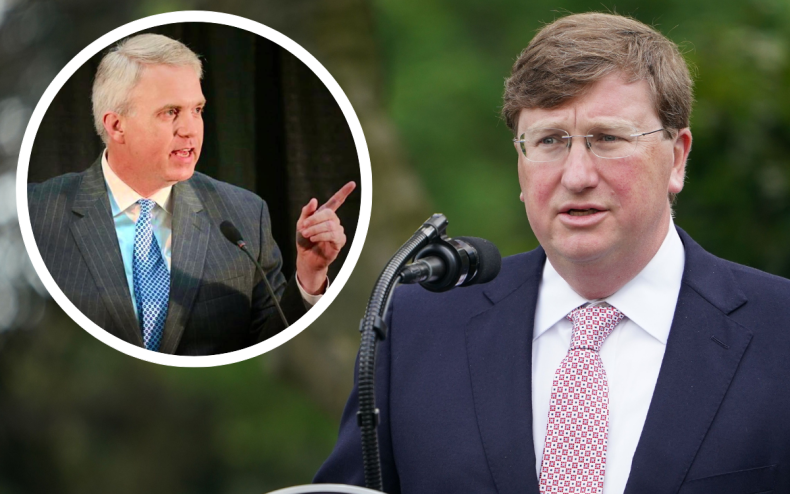 Even then, Musgrove was made of different stock compared with the Democrats of today. He was a fierce opponent of abortion who signed a bill banning homosexual couples from adopting children and requiring the motto "In God We Trust" to appear in all the state's classrooms.
Recent governors' races in the state have been uncompetitive. Reeves' predecessor, Phil Bryant, notably won both of his elections by roughly 30-point margins, cementing GOP control of all three state government branches, which has remained intact since 2012. In 2019, Reeves secured a less comfortable 6-point win over Democratic Attorney General Jim Hood in his first run for the office.
If Reeves does lose, it will likely be due to his unpopularity. While he holds a 41 percent disapproval rating in recent polling by Morning Consult, approximately 57 percent of the respondents in the Siena College/Mississippi Today survey said they would prefer "someone else" in the governor's mansion. That's a sign his support is potentially tepid among voters he will need to secure a second term.
The poll might not be predictive. Some polling ahead of the 2022 midterms showed troubled Oklahoma Governor Kevin Stitt, a Republican, to be extremely vulnerable, but he coasted to a nearly 15-point victory over challenger Joy Hofmeister.
However, Reeves' first term has been marred by controversy, including a drinking water crisis in the capital city of Jackson, his handling of a welfare fraud scandal involving Bryant and NFL legend Brett Favre, and 2019 revelations of his membership in a college fraternity that held costume parties where attendees dressed in blackface.
And while the new poll shows Reeves with a comfortable lead over a hypothetical primary challenger, he has faced turbulence within his own party throughout his first term. Mississippi House Speaker Philip Gunn has openly considered mounting a run against him as far back as 2021.
Bill Waller Jr., a former chief justice of the Mississippi Supreme Court, said earlier this month that he was "strongly considering" challenging Reeves in this year's GOP primary. Waller told Mississippi Today, "I think there's a critical need for a change of leadership at the top."
Any such challenge could prove difficult and highly expensive for an already unpopular governor to outmaneuver. After Reeves' easy win in the 2019 Republican primary, he found himself with a roughly half-million-dollar fundraising deficit compared with the Hood campaign in the general election, thanks to a $1.35 million donation to the Democrat from the Democratic Governors Association (DGA).
Newsweek has contacted the DGA for comment.